Creating your Farm Brand – things to consider for a successful diversification
So, you have chosen your farm diversification project, you have worked out the logistics and now you want to ensure your farm product flies out the door to your eager customers.
In our previous blogs, we have examined how to choose the right diversification project for your farm, and we have discussed the considerations you should make when designing a new product. In this blog, we are going to look more closely at how we take that diversification project and build it into a farm brand.
Many farm businesses we work with have gotten straight on with selling their product without considering aspects such as a marketing strategy or branding. I am not saying it is not worth road testing your product, but what we tend to find is that these Agri-businesses get way ahead of themselves without considering the larger long-term picture of the product and its marketing. At the end of the day without good marketing and clear communication, as far as your customers are aware your glamping site is the same as another. The same goes for meat products, dairy or any other diversification product.
So, take a breath and do some research. The first step on the journey to taking your agri-business from struggling family farm to a thriving farm brand is good quality research. There are two main elements to this – competitors and ideal customers. At this stage, you should already have a clear idea of who your ideal customer is, so let us begin with your competitors.
Competitor Research
It is important to know and consider what competition might be out there for your farm business. A common mistake is to see large, well-known companies as your direct competition, but it is unlikely that they will truly be your competition. Instead, look for others within your locality who would be considered a small-medium local farm business.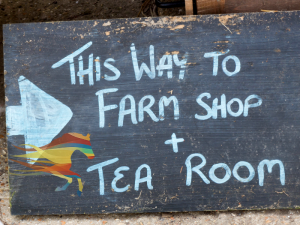 For example, if you are a dairy farm looking to diversify into milk vending machines, is there anyone else doing it locally? If there is local competition, could you overcome this by installing your vending machine in a complementary business such as a local coffee shop or village store?
Consider where your competition is advertising, what marketing strategies they are using and how you can differentiate your farm brand from them. Maybe they are targeting a different ideal client but with a similar product, so can you ensure there is less overlap in your ideal client and your Agri-marketing?
If you are looking to add glamping pods and there is another farm with glamping units nearby, how will yours be different? If they are targeting families, maybe there is space in the market for you to target couples looking for a kid-free break.
Ideal Customer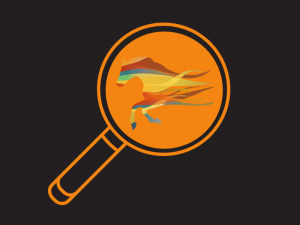 Researching your competition should have helped you to ensure your ideal client is clearly different from the competition's, and that there is a good market for your farm product. Now we need to consider our ideal customer in-depth and what branding cues will resonate with them.
You will previously have considered the general demographics of your ideal customer, now we can further analyse what their behaviours, opinions and pain points are. Start by thinking about the type of image you want to present to customers.
Try this exercise: choose three to five words that describe the type of feeling and experience you want your customers to have at your farm business.
You may have chosen things such as fun, relaxing, comforting, adventurous, luxury and so on. These words can now be used to build your farm branding. Ensure that the keywords you have chosen match your ideal customers. For example, if you said adventurous do you think your ideal customer would consider themselves to be adventurous?
Farm Branding
We would always recommend working closely with an experienced graphic designer to create your branding kit. A branding kit includes your logo with a few variations for different uses, your fonts which will be used for all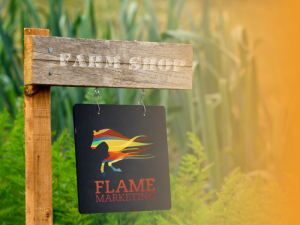 writing, your colour scheme, and some key brand concepts.
The better you can articulate to your graphic designer your vision for the farm brand, the easier it is for them to create something you and your customers will love. This does not mean you have to be able to draw sketches or anything like that. By providing a graphic designer with a good description of your ideal customer, your farm brand concepts and maybe strapline, along with few personal notes you will be able to make the most of your graphic designer.
It can also be helpful to spend time collecting ideas from other brands. They do not have to have the same product as you, but their brand should match your ideal customer at least to some extent. For example, if you are looking to produce free-range lamb, is there a beef brand that has a similar ideal customer to you whose branding you like. By doing this, you can create a mood board of brand feature that you would like in your farm brand.
I will put a small caveat here – we have had a few agri-business clients who love the branding of another business so much they ask for something almost identical. For starters, it opens you up to copyright issues, but more importantly, it harms you in differentiating your farm brand. Consumers are unlikely to see your product as different from that of other business and may even assume it is the same farm producing them. The idea instead should be the select some of the best bits from multiple brands, then give these to your designer as a way to share your vision. They can then build from there to create a brand which is unique to you and your tastes.
The key to good branding is to consider the little things. Think about how each element of the branding relates to your customer, to your farm, and to your product. Make sure that no part of your farm business and branding that is at odds. If you have a glamping site and you are trying to target adults only, do not make your logo look like something out of a nursery school art class – clashing colours are not your friend.
Ensure you also take advice from your graphic designer – they will be able to tell you which colours or fonts to steer clear of and why. Our graphic designer also designs our websites, so she can often provide advice on which colours or fonts could be a problem when used digitally – some metallic colours do not render well on websites.
Finally, once you have your branding kit – use it! We often meet farm business owners who have paid a lot of money for branding that looks amazing but either it is not being used to its full potential or it is not being used consistently. Rather than simply putting your branding on your website and forgetting about it, think about how you can incorporate your branding into all elements of your agri-business.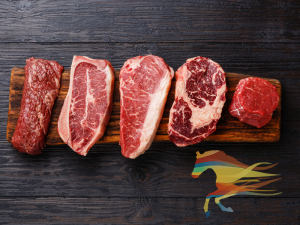 Top tips:
Add a watermark of your logo to the corner of photos for social media – that way wherever that photo goes, viewers can see your logo and brand.
If you are adding text to any image for use within your business such as a little graphic for social media, ensure you use the fonts in your branding kit. It creates a far more professional and consistent brand image to your customers.
If you are starting from scratch with farm branding check out our firestarter package.