9 farm marketing elements that you forgot to plan for your cheese business
The dairy industry has long suffered from low profits and the whims of large supermarkets. Adding value to your milk and selling direct is a great way to increase the profitability of your dairy farm. One option is to start a cheese business, but this requires a farm marketing plan.
There are many elements of farm marketing which are often overlooked, so let's check off the ones you might have forgotten.
What are the 4Ps of marketing, and why do they matter?
The 4Ps of marketing is a marketing idea that built on the idea of having different elements of a marketing mix and needing to get this mix correct for successful marketing. The idea first arose in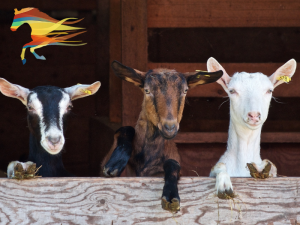 the 1960s and has since been developed. The 4Ps are:
Product
Price
Place
Promotion
You will need to consider each of these elements when planning any farm marketing strategy. You can think of this as a checklist for planning your farm marketing activities, but to go a step further in this blog, I have broken these 4Ps into various questions to help ensure you don't miss anything.
Who is your ideal customer?
An ideal customer, also called an ICA, is your image or description of your perfect customer. This is not to say that these will be your only customers, but these are the customers that you should focus on, the ones you should market to and the ones that will make your business a success.
We often deal with farmers who view everyone as their customer, and although we understand that view, it is simply not effective when selling or marketing online.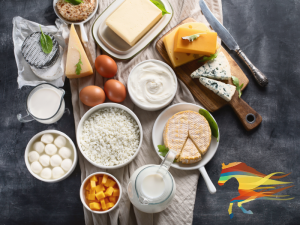 Your ideal client should be the customer who you most like working with, the one that makes you the most profit, and the one who best fits your overall ethos for the business. Picture your best client, the one that really values what you do, never quibbles on price and is an advocate for your business.
Consider why this ideal client particularly values your product. Go beyond the basic ideas of 'they like our cheese' to wider ideas about their beliefs and ethics. Do they choose to buy from you because they care about supporting small independent farms? Or is it because they what to buy direct so they can see how well the animals are cared for? Or is it for egotistical reasons, so they can show off to friends how ethical and different they are?
If you want to dig deeper into how you develop an ICA and, indeed, how to work out what makes them tick, then check out our free farm marketing strategy workbook here.
Understanding your ideal customer is central to planning the whole of your farm marketing strategy. They also play a key role in developing a digital marketing and visibility strategy, particularly for your SEO (Search Engine Optimisation).
Have you got a farm marketing strategy?
When you start a new farm business, it is a good idea to try different forms of marketing to work out what types of farm marketing work for your cheese business. However, simply jumping between different farm marketing tactics long term without any strategy will not benefit your cheese business.
Once you have explored some farm marketing tactics, start to consider how you can build this into a structured marketing strategy. This starts by considering your ideal customers, then planning your marketing and business goals.
From here, you can start to develop a strategy for your cheese business, where you can manage and review your marketing activities to ensure you are reaching your goals. To find out more, check out our free guide.
Have you planned your pricing strategy?
When planning your farm marketing strategy for your cheese business, you need to consider how you want to present your product to the public. A large part of this decision is how you price your products. I would recommend working out the absolute minimum pricing that works for your products – what is the amount you have to get to break even – then add between 5–10% depending on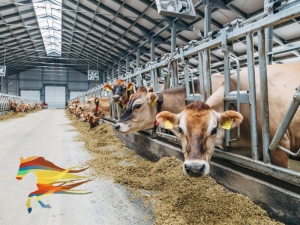 your farm diversification structure. This price is your baseline: the one that you use to ensure, even when on offer or sale, your products are still profitable.
Then look to competitors to consider their pricing options and make a list of suitable comparisons to give you an idea of market value. You can then cross-reference this with your ideal price point and the type of pricing you feel your ICA will respond to.
As a cheese business, you may also need to consider how your pricing will differ depending on the buyer. For example, if you choose to sell direct to consumers and also be stocked in retail spaces, you will need to consider different pricing for the wholesalers and ensure the price the customer pays in both locations is fair and at least similar.
Try some of the questions below to get you started:
What price point is most appropriate for my business?
Is my product high end or low end?
Why is that the correct price point for my product?
Does that price match the cost implications of my business?
Does that price match my ideal customer?
How will you package your products, and how does this relate to farm marketing?
You will also need to think about packaging. When considering packaging, you need to balance practicality with design. Your packaging should support your farm marketing and brand development. To ensure you get the best possible value for the effort you put into your farm and produce, your goal is to create a recognisable farm brand. Your packaging forms a large part of this; consider brands such as Snowdonia Cheese, who have highly recognisable and consistent packaging across all of their products.
Your style of packaging will also affect the look and feel of your product, which helps to indicate your price point to consumers. You will notice higher-end brands tend to use colours such as black, gold/silver, and rich tones such as purples. These colours are associated with luxury and help to position the products in their pricing. Similarly, bright red, white and yellow are often associated with cheaper or lower end products.
Equally, some visual cues remind customers of specific values you may have as a business; green packaging is often associated with eco-friendly or natural products. The key here is that your packaging matches your ideal customer and the type of market you are trying to target.
In terms of cheese, the texture of packaging also has an impact, with more old-fashioned cloth and waxed paper wrappings being associated with higher-end artisan products compared to plastic-based packaging.
How will customers interact with your cheese business?
This question relates to the place part of the marketing mix, as you are thinking about where and how your customers will interact with you, and therefore where your product will be found or positioned.
You need to think about how your customers will interact with you; will they engage with you on social media, or will they only visit you in a physical location such as at events. There are no right or wrong answers, as these will be specific to your cheese business. You should consider, however,  how your ideal customer is most likely to interact with you, or how they would prefer to interact with you, and then ensure you are making that form of interaction as easy as possible for them.
This extends to how they buy from you, and the customer journey should be planned out rather than left to chance. You may also wish to consider your customer services processes. For example, what happens if your customer has a problem with a purchase? Are they going to email you, or contact you on social media, or would they prefer to call you?
Signposting customers to the best ways to contact you also helps to improve customer relations and engagement.
Does your cheese business need a website for its farm marketing?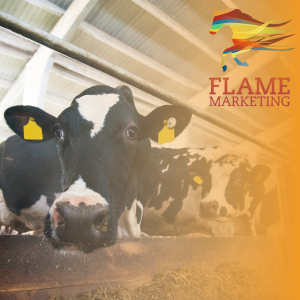 As you are planning how your customers will interact with your cheese business, you may begin to consider if your business needs a website. Many people will simply set up a website without first considering if this is needed for their business and what the goals of setting up the website are. For example, if you are creating the website simply to process sales and payments, a landing page may be sufficient.
If you are unsure if your cheese business needs a website, check out this blog.
What about email marketing?
Another under-utilised marketing channel for small businesses is email marketing. Email marketing relies on being able to capture your customer contact details and being able to do this in a way that is compliant to data protection laws. But it has been a hugely effective marketing channel for retail and food producer businesses, such as a cheese producer. Check out this blog to find out more.
What about social media marketing?
It is now unlikely that your cheese business won't benefit from some form of social media marketing as part of its marketing mix, but you need to consider which is the best platform for your business and how you are going to use it effectively.
You might wish to check out this blog on Instagram for dairy businesses, or this one on using Facebook.