Farm Diversification: How lockdown gardening hobby turned into veg business
What started as an escape during the Covid lockdown has snowballed into a successful farm diversification at one Welsh farm.
Setting up a new farm business growing, supplying and delivering boxes of fresh local produce has been a fast but rewarding learning curve for Sarah Evans. Sarah is the proud owner of Watery Lane Produce, a small nursery and boxed veg delivery business based at the 200-hectare family arable and beef farm in Eyton, where she lives with her husband Will and their four school-age daughters. With support from Farming Connect, Sarah's farm diversification began in 2022.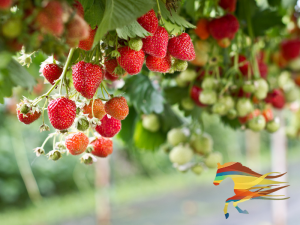 She says: "I feel I have finally found the dream job because I am not only investing time in something I enjoy and feel passionate about, but working from home has given me the flexibility to spend more time with my family."
Sarah, a graduate in psychology who also has a master's degree in business administration, admits to having had 'absolutely no interest in gardening' until the restrictions of lockdown.
"In between home-schooling sessions, I suddenly found great satisfaction tending to the farm's garden, which had been largely ignored when the children were younger, and where I suddenly discovered I loved gardening and growing things."
The seeds for her new veg box enterprise were first sown when Sarah was inspired by a television programme about the growing number of small-scale horticultural growers tapping into the demands of shoppers keen to buy fresh, locally grown produce, rather than supporting large-scale supermarkets.
"The pandemic and its restrictions changed the way a lot of people live their lives, and for many, that included the way they shop. My customer base, which includes three small retail businesses, all buy into the concept of online ordering for weekly deliveries of local organically-grown produce, because not only does it taste better, it is such an important factor in terms of minimising our carbon footprint."
Before Sarah and Will had even identified a suitable growing plot to start her new venture –she settled on a third of an acre of flat ground close to the farmhouse – she started to research the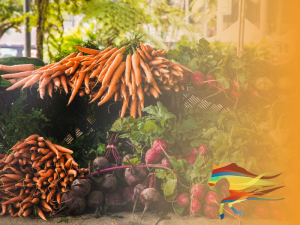 options for setting up a new enterprise. Her priorities were to grow as much as she could herself using a mix of conventional and 'no dig' systems, but to also widen the range of produce she could box up and deliver through approaching other local organic producers.
"I turned to Farming Connect before I dug my first row, so I'm very grateful that I was able to receive expert advice before I made too many time-consuming costly mistakes."
Sarah's first support came through attending a Farming Connect marketing and diversification surgery.
"I came away with a checklist of all the issues that I needed to consider, from what initial costs I should expect – surprisingly few, at the outset – and how was I going to target new customers and build a website and online presence, to the scale of the enterprise I could aim for."
Next to provide support was Philip Handley, one of the Farming Connect's fully-funded mentors, an experienced horticulturalist who runs a commercial kitchen garden in North Wales. With Philip's guidance, Sarah concentrates on seasonal leafy greens, summer staples such as tomatoes, cucumbers and courgettes as well as peas, beans and a small range of root vegetables, buying in any items she does not produce herself from other local growers to widen her range.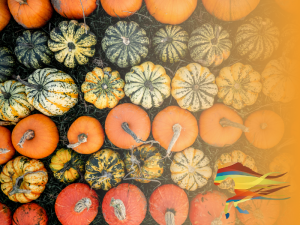 She also learnt how to overcome weather issues such as the spring winds that could destroy the polytunnel, and extreme heat experienced last summer.
"I have also taken his advice on irrigation, and planted according to seasonal demand, with a pricing structure that keeps me competitive with organic produce available in supermarkets."
Although life is now pretty much back to normal post-pandemic, Sarah says that her expanding customer base shows no signs of giving up on their weekly deliveries of fresh organically-grown produce.
"I have found a job I feel passionate about, I am doing my bit for the environment and climate change, and I am also educating my four children on all these important issues."