How Investing in Marketing for you AgriBusiness can Increase Revenue
So why do companies use agro-marketing? Does it increase the revenue of your farm business? Well, the easy answer is yes! But for marketing to work effectively it needs a few key ingredients. A clear and well thought out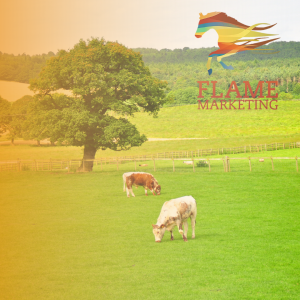 marketing strategy that ensures content is cohesive across all marketing channels. A clear targeted ideal customer, that is the focus of all marketing efforts regardless of channel or media type. Enough time, money and input to ensure that the marketing is effectively reaching the right customers and converting them into profit. Without these elements, marketing will be ineffective and this can lead to marketing becoming a cost to the business rather than a profit-generating investment. So where do you start in terms of marketing your Agribusiness?
DIY Marketing for your Agribusiness
If you started your farm business as a side hustle or low investment project, you most likely started by doing your own marketing. The plus side is it's free, at least in principle. But the truth is by doing this you are using your time on marketing, time which could be better spent producing the product or working on the farm business in general. You are also likely to take longer, and do a poorer job than a marketing professional as you are unlikely to have the full range of skills, technology and knowledge that they will have in terms of marketing. Particularly when it comes to marketing strategy.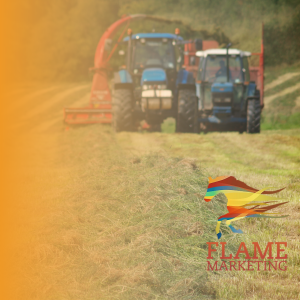 Now there is another option here if you aren't ready for done-for-you marketing services using a marketing professional. Then you could look to upskill yourself through learning more about marketing, and by having a marketing professional to guide, advise and mentor you. At Flame Marketing, we have developed a marketing package just for this occasion. We offer marketing coaching and support for farm businesses who want to do it themselves, but with some guidance. Our marketing coaching package includes marketing strategy plans, 1-2-1 coaching and access to some of our marketing tech, all of which will make your life so much easier, and will level up your farm marketing. Check out the full details here!
By improving your marketing strategy, you will be able to attract more consistent sales and better-quality customers who are likely to be repeat buyers. It is much easier to encourage a previous customer to buy again than it is to get a new customer to try your product for the first time.
Retargeting your customers helps in increasing the frequency of transactions. This is easier with email marketing tools such as MailChimp. You can re-target existing customers, track if they have opened your email and clicked on any of the newsletter links. Don't forget to offer something for free such as a great tip that they might be interested in. For example, if you own a farm shop business offer free recipes for your food.
Done-for-you farm marketing services
If you are setting up a larger agribusiness with more initial capital investment then getting a marketing professional on board as soon as possible is the best course of action. A good quality marketing professional will be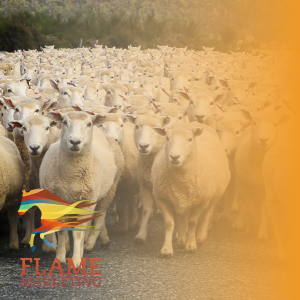 able to support the development of your agribusiness even before you open your doors. At Flame Marketing, we have previously been asked to write marketing proposals in support of funding applications, business plans and grant applications. By showing investors you have a clear marketing strategy that is prepared by a professional you are giving them confidence in your ability to execute your business plan and generate a return for your investors. This can help you to gain further funding and make your agribusiness a success far quicker. Make sure when you apply for funding or grants that you consider including a budget for professional services such as marketing support.
By seeking marketing support early in your business journey your farm diversification will grow faster and more consistently which will ensure you have a stronger more stable agribusiness overall. It also ensures that you have a consistent marketing strategy, brand identity and ideal customer right from the start. This means you won't have to spend time, money and effort re-positioning yourself later on.
For farm businesses in this position, we recommend our Firestarter package. This package is designed to transform your agribusiness. It includes a complete visibility review and strategy plan, this ensures your farm business, social media, and website is easily found online and regularly shows up for your ideal customers searching for your exact product. As part of this, we completely overhaul your website and ensure it is fully search-engine-optimised (SEO). We also provide an ongoing content plan which is SEO friendly and provides guidance on the topics, keywords, and blogs that will continue to support your visibility and sales online. Finally, this package also includes ongoing marketing services for 6 months with social media management, copywriting, blog content and marketing strategy planning. After the 6 months are up you can choose to take out an ongoing package with us or go it alone no strings attached.
Equally, you may be in a position where you started your farm business on a shoestring but now it has grown to a stage where you require outsourced marketing support. If that sounds like you then our bespoke packages are an ideal option or if you are able to stretch to the Firestarter package then this will really propel your agribusiness to the next level.
To begin with, we offer a free marketing consultation where we can discuss what you currently do as a business, and we then produce a strategic plan for the business so you can go about doing your Agribusinesses marketing in the correct manner. But the original question was how can marketing increase revenue?
An example of how we have helped previously
Cornerstone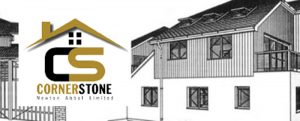 Cornerstone is a small Devon based property development company that specialises in small 2-5 home developments with one-off designs. A significant cost to small property developers is estate agent fees, particularly when dealing with larger high-end homes. Therefore, a key focus for our marketing services was to attract buyers for the properties before needing to use an estate agent.
We have used social media to focus on building the company's online presence and brand awareness. Cornerstone already had a well-established reputation for quality builds and stunning design features but this was only known about from those who had purchased or viewed their homes in person.
We have worked hard to develop a marketing strategy for social media that communicates Cornerstone's expertise and quality to a wider audience. Last year we focused on working alongside the estate agents to drive enquires, viewings and open house attendance. This was successful as many of the homes were sold to buyers who had become aware of the company and the homes through social media.
This year our goal shifted as we looked to focus on removing the need for an estate agent completely. Cornerstone's most recent development is of 3 high-end bungalows in a local market town. Before work had even begun on site, we had been able to generate 12 strong leads for this site under the option of buying off-plan. Subject to these sales going to completion as we expect we will have saved Cornerstone approximately £15,000 in estate agent fees on this development alone.
Cornerstone has now asked us for further marketing assistance, with the additional goal of using social media to source land for development. We will be adding LinkedIn to their marketing package to seek out and target those who we feel are likely to own small underused pieces of land which could be redeveloped into new homes. This will improve the pipeline of development sites and allow Cornerstone to expand.
This example just shows the difference marketing can make to a business. To get started we offer a range of packages to suit your Agribusiness whatever its need. This can be from a whole fully ran marketing campaign by ourselves to a couple of social media posts a week.
For more information please don't hesitate to get in touch today.
Phone & Email
01803 814 147 & info@flamemarketingltd.org
Here is a link to a recent talk on social media marketing for farm diversification