11 Steps to Successful Farm Marketing
With a little forethought, you can create successful farm marketing plan for your farm that will expand
Creating appealing displays of your farm product at festivals and farmers' markets is one step to successful marketing.
Agritourism, breeding stock, fiber, yarn, fresh or prepared food, farm-related services—the list of potential income streams for your farm is only limited by your interest, time and imagination. Your farm marketing plan starts with a simple list of all of the products and services you currently offer or want to offer in the future. A successful plan can help expand your customer base and lead to additional revenue.
1. Identify your farm's market.
If asked the question, "Who are you marketing your farm product to?" your first instinct might be to say "Anyone who will buy." But if you put some thought into it you'll realize the answer is much more complex. Do women or men buy more frequently from you? Are your customers young, middle-aged or retired? Do they belong to a certain ethnic group? Do your buyers tend to be of a certain income level? Do they live in a particular area or are they geographically dispersed?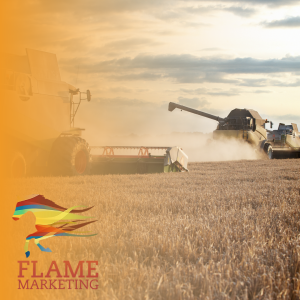 If your farm already has customers, think of your best ones. Who are they and how would you describe them? If you're just starting out and don't have customers yet, observe your potential competitors and their customer base. By knowing who your customers or prospects are, you can increase the likelihood they will buy from you by tailoring your marketing message to their needs and desires.
Keep in mind that your target demographic might be different for the different products and services you offer. If you have a sheep farm, for instance, your breeding stock buyers may be local 4-Hers, while buyers of your organic, pasture-raised lamb might be located in a large city a few hours away, and the middle-aged female hand spinners who buy your fleeces might be spread all across the country.
2. Set your farm apart.
It's important for any business to establish its unique selling proposition, or USP. A USP is the answer to the question, "Why should someone do business with me instead of my competition?" What unique benefits does your farm offer? Freshness, quality, personal service, rarity … these can all be part of your USP.
A good USP is a clear, simple and concise statement of the benefits you offer. Along with your product line and target demographic, your USP becomes your North Star, always guiding you even when things seem foggy and the future uncertain.
Spend some time creating your USP and write it down in a prominent spot, be it in the gardening shed, barn or office. Your USP should be kept front and center as a constant reminder of your farm's purpose and direction.
Now that you've established what you're selling, whom you're selling it to and what makes it different, you're ready to get down to the nitty-gritty aspects of implementing a marketing plan. Most marketing plans incorporate a variety of components. Among those you will need to consider include a logo, tagline, website, association membership, advertising, events, customer service, timing and budget.
3. Create a farm logo.
Your farm's logo can be something as simple as your farm name in a distinctive font, or it can be more intricate and include illustrated elements that pertain to your product or farm name. A logo should project a business image based on your goals and objectives, and elicit a general feeling for your brand. For example, if you have a wildflower farm that caters to a female clientele, you may want your logo to evoke romance, using soft, natural colors (grass green, sunflower yellow, sky blue or pastels) and a more feminine font to achieve this. However, if your farm raises Percheron horses, strength and majesty represented in darker, bold colors (browns, reds, bright blue, purple, black) and a more masculine font might be more appropriate.
While you can create a farm logo on your computer that is suitable for desktop printing, if you plan on expanding your marketing efforts into packaging, professionally printed materials and signage, you might want to enlist the help of a professional graphic designer. Sign makers, embroiderers and commercial printers all have specific requirements for file format and quality that is difficult to achieve with most home or small-business software. A graphic designer can help you achieve a more polished look and will be able to provide you with the specific file formats you'll need later on.
If you decide to have your logo professionally designed, finding the right designer is important. Do they know your business or businesses similar to yours? Do they have a style you find appealing? If you want illustrated elements in your logo, can they design these for you or are they limited to using readily available clip art?
The designer should provide you with a few versions of your logo including a high-resolution file for print use (300 dpi), a low-resolution file for web use (72 dpi) and some type of vector file format for embroidery use.
4. Write a tagline.
Ideally, your tagline should be tailored so closely to your brand that competitors can't substitute their names in it. John Deere's "Nothing runs like a Deere" is an excellent example of a tagline that communicates both brand and benefit.
When Gretta MacIntyre, who markets llamas, White Dorper sheep and colored Angora goats from her Firethorn Farm in western Pennsylvania, was looking for the right tagline she knew it needed to include something about her farm's superior customer service. The winner? "Expect the Best!"
"We try very hard to do a good job with our animals," MacIntyre explains. "That includes nutrition, veterinary care, genetics, record keeping … the whole picture. We also do a lot of customer support. We work hard so people can expect the best."
Start your tagline brainstorming process by noticing those you see every day on TV, in magazine ads and on the radio. Think about what you want your farm brand to communicate with its tagline. Start putting ideas on paper. Don't worry about how silly some of the ideas might seem at first, just get them on paper and the right choice will emerge.
5. Launch a website.
There's no denying it—today's farmer needs to be technologically savvy, and for most of us, an effective farm marketing plan includes having a website. A website is cost effective and reaches a wide number of customers. Whether you use your site as a static farm brochure to get your name out or actually sell products online, a website can help take your marketing to the next level without a huge investment.
The cost effectiveness is part of what drew Wayne Jarvis to create a website for Sixth Day Farm, his family's diversified hobby farm in Holley, N.Y.
"We wanted a website to advertise our farm and all of the things we do here, and the Internet is such a potentially 'big bang for the buck' that when we had an opportunity to get a high-quality professional site at such a low price it was too good to pass up," Jarvis says.
For Jarvis, a simple brochure-type site that introduces prospects to the farm and its animals, without getting into specifics about what is available for sale at any given time, has been enough to generate a good response.
"We have gotten many customers from our site already and if we had more animals to sell I would make a real sales list page, but we can't keep up with the demand for animals as it is, particularly the French Angora rabbits and the Saanen dairy goats," he says "We have already decided to be much more aggressive in our breeding program next year so that we will have more animals to sell."
If you have patience for software and a desire to learn, there are a number of free online website platforms, such as WordPress, available that can help you develop your own website using pre-made templates. Or if you're after a high-quality professional web presence, rather than a do-it-yourself endeavor, you can engage the services of a website designer.
Armed with the photos, text and guidance you provide, a web designer will work to incorporate these elements, along with your logo and tagline, to create a unified site that is consistent with the rest of your farm marketing efforts. Costs will vary depending on the complexity of your needs, whether you are selling products online, the completeness of the information you provide and subsequent revisions.
6. Join farm associations.
Association membership can also be a cost-effective way to market your farm and its products. Membership fees are generally modest, and benefits include newsletter subscriptions and a printed and/or web-based listing in the association's membership directory. For Jarvis, association membership is important because it reaches his target demographic: beginning breeders.
"Association membership is definitely a part of our marketing plan for alpacas and Cormo sheep," he explains. "Since both of these are rare and it is difficult to buy good quality breeding stock, being a member in the society puts our farm out there in front of all of the other breeders, particularly the new members who are likely just starting to build their foundation herd," says Jarvis.
7. Attend farm-related events
Be it festivals, farmers' markets, seminars, demonstrations or farm open houses, events provide you with an excellent opportunity to market your products in a hands-on environment. Just as some buyers aren't comfortable buying from catalogs, some of your customers are likely to want one-on-one contact with you and your products or animals before making a purchase decision.
"Many people buy on impulse. If something appeals to them, they will buy it. They see it, really like it, buy it, and later decide what they will do with it," says Leslie Orndorff, owner of Tintagel Farm in Glenville, Penn.
Orndorff markets most of her goat and sheep farm's products at festivals and shows and chooses which events to attend carefully.
"Because my fiber business is geared to roving and yarn I try to go to shows that will have spinners, knitters and weavers as customers. Shows that offer classes usually generate the highest sales for me. I also like to do goat/sheep shows specifically, so that I may be able to show and sell my animals," she says.
Having a wide variety of products and presenting them well is important, too. "I try to set up my booth so that my products are visible from the front opening," Orndorff says. "I put like products together, always within eye and hand reach, since fiber is a visual and tactile product. Also, setting up the booth to offer a flow of traffic, not a dead end, really helps!"
Other events, like open farm days or demonstrations at the local fair can also drum up business for you. Contact your local paper and see if they'd be interested in covering what you're doing to further increase your exposure.
8. Begin advertising.
Display advertising in a glossy magazine might not be within your budget, but perhaps a small classified ad is. Show programs and newsletters can also provide cost-effective advertising opportunities. Keep in mind that you only have a limited amount of time to catch readers' attention, so your headline should pique their interest and make them want to read on. Always be sure to include your farm name, your phone number and your website address in any advertising you do. If you have room, also include your logo and tagline.
9. Provide good customer service.
Many times the best marketing practice is also the cheapest to implement. This is never truer than in the marketing benefit of good customer service. Good customer service doesn't cost any more to deliver than bad customer service, but bad customer service can literally cost you your business. Whether it is standing behind a sale, answering voicemail and email promptly, or handwriting a thank-you note to put in with an order, small efforts can make a big difference!
10. Establish a marketing budget and calendar.
In your startup years, your farm marketing budget might be 5 to 10 percent of your gross sales figure, but as time goes on and word-of-mouth begins to work for you, your marketing budget might drop to 2 to 3 percent of gross sales. Creating a marketing budget and calendar for your marketing year is a good way to set goals and keep yourself on track.
If your farm business has a natural downtime (as many farms do), this is a great time to plan your marketing. You'll have fewer distractions, less stress and will be able to come up with more creative ideas than when you're in the height of your busy season. Marketing isn't hard to do, it's just easy to put off doing when it seems like a million tasks are more pressing.
11. Evaluate your success.
The success of your farm marketing plan can be gauged in many different ways. Ask yourself these questions after you've given your newly implemented marketing plan time to work (generally six to 12 months):
Did I sell more?
Did I make a larger profit?
Did my farm products sell more quickly?
Are there some potential customers that might turn into sales in the coming year as a result of this year's marketing?
Did I retain more customers?
Did I get new customers?
Were my existing customers more satisfied?
Was my job easier and more fun?
Over time, as your farm business matures, you will undoubtedly expand your marketing horizons, be it sprucing up your product packaging, having brochures professionally printed, sending out press releases, or getting signage made for your farm store or show booth. There will always be a continuing stream of marketing possibilities to consider. Keep an open mind. If there's something you can't justify financially today but think would be a great marketing idea, in a year your increasing sales might make it possible.
For more information about marketing for your farm business please check out our website: FLAME MARKETING
Article taken from Hobby Farms