4 Profitable farm diversification for beef farmers
In our experience, beef farmers are often the meat producers least likely to seek farm diversification opportunities. Historically, I have put this down to the relative stability of beef prices and the constant demand from the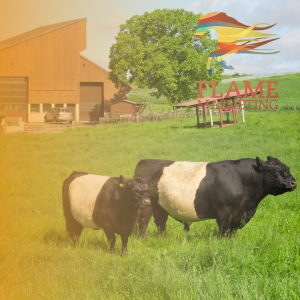 hospitality sector. However, there are still many beef farmers who would benefit from farm diversification projects. Let's look at some options for beef focused farm diversification and the reasons why you might consider it for your family farm.
Over the last 18 months, we have seen some interesting trends for meat markets and hence the fortunes of livestock farmers. For beef farmers, this started with the sudden impact of hospitality closures on carcass balance and sale prices. However, since the start of the pandemic beef prices have recovered and stabilised as more consumers look to eat more red meat at home. What this has highlighted though, is the serious impacts to business viability when relying on one income stream, particularly one which is fickle at best and over which you have little control.
One of the biggest benefits of farm diversification is its ability to provide an alternative income stream. Not to mention that as a rule of thumb you are likely to have far more control over the success of your farm diversification compared to selling directly to large processors. Farm diversification can come in many forms from glamping to direct produce sales to solar power. But for this blog, I want to focus on diversifications that use the core product, beef, in a new and interesting way. Hence offering farm diversification options which allow beef farmers to continue working with beef rather than moving into non-farming businesses such as tourism. One of the issues faced by most meat-based farm diversifications is having a healthy carcass balance. This is why we have looked to include diversification options that can be combined to ensure maximum use of the animal and achieve a healthy carcass balance.
The Classic Farm Diversification: Beef meat box sales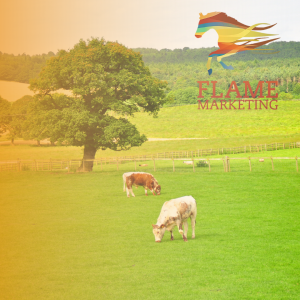 The most common farm diversification option for any meat-producing livestock farmer is meat boxes or other forms of direct sale. This can come in many forms; often smaller family farms will start by simply offering to sell a portion of a carcass to locals, for example, half a lamb or for beef farms, this might be a quarter of a carcass. However, this method doesn't work effectively when looking to scale the business. To successfully scale direct meat sales, you need to consider how best to process the carcass to ensure you have a range of meat products or cuts to offer that are recognisable and manageable for the average consumer.
Although we are a marketing company at our core, years of experience has taught us that we also have to operate as business development advisors to ensure that the farm diversification projects, we work with are as successful as possible. Many farms we work with haven't fully considered all the processes involved in selling their meat directly to consumers. So, let's run through some of the considerations you need to factor in when planning your direct sale or meat box business.
Firstly, butchery, you need to decide if you are going to have your meat butchered in-house or through a sub-contractor such as a local butcher's shop. Outsourcing your butchery means you will have lower upfront costs as you will not need to build a meat processing room, obtain butchery licenses, or undertake training/hire someone. However, there will be a cost to outsourcing which will impact your profit margin. My advice is to consider the costs and benefits of both options for your farm before going ahead with your farm diversification. Generally, if you are a family farm with grown-up children who would like a role of their own on the farm then training them to manage the butchery process may be an ideal solution. However, this won't be the right fit for everyone.
From a logistics perspective, you will need to consider how you are storing butchered meat. You may decide to only sell fresh meat, processed perhaps once a week, and therefore will need to communicate any wait times to your customers. Alternatively, you may choose to freeze some of your meat to offer sale at all times. Whatever you choose, you need to ensure this is effectively communicated to your customers and clear in all your marketing material.
If you want to create a farm business that is truly scalable and successful you need to focus on creating a farm brand. To do this you need to ensure that you have clear processes which you follow so that customers receive the same level of service every time they buy from you. Have you considered how products will get from your farm to the customer? Will you offer delivery? How much will delivery cost? All these questions need to be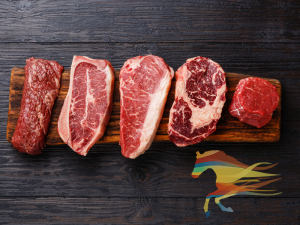 answered before you can consider how to market your products or indeed how to find customers.
You will also need to think about packaging, ideally, your packaging should continue to support your marketing and farm brand development. Your packaging also needs to reflect the type of consumer you want to attract. If you want to pitch your meat as a high-end product with that high-end price tag then your packaging must match this too. Otherwise, customers will feel let down by the product. We eat with our eyes and expensive wine tastes better when it comes in a fancy bottle the same is true for a meat box delivery.
Once you have considered all the logistical and practical issues for creating your meat box business. You will need to plan how these will impact your marketing decisions and how best to reach your ideal customer. A good starting point is to list all the factors that make your beef products special to a customer, for example, is your beef rare or native breed? Does you beef class as high welfare, RSPCA assured, Red Tractor, or any other specific schemes or buzzwords for customers? Do you rear your cattle in a different, specific or interesting way?
Once you have done that you can start to think about what marketing messages you want to communicate to your customers and how best to reach them. I recommend checking out our free marketing strategy planning guide and working through the tasks to help you create a well-considered marketing strategy for your farm diversification.
Meals on Wheels
For those looking to further extend their range of products or indeed tackle a slightly different farm diversification producing complete meals can be a good next step. Although this diversification option could be undertaken as a standalone business, we think it would work even better when combined with a meat box style business. You will make savings on the set-up costs by using the processes already in place for the meat box business and will be able to capitalise on a wider product range which should provide a larger order per customer.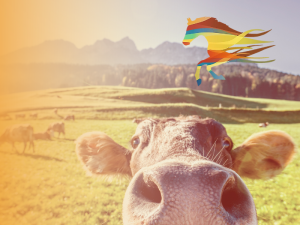 Creating prepared meals on the farm does require a good working space and some investment into food processing training and licencing but it is a relatively simple process and for those farmers used to dealing with other health and safety regulations the paperwork should be a walk in the park. We also have a health and safety advisor we can connect you with should you want some guidance on the requirements and costs. Prepared meals could range from meat pies to ready-made stews; you could also offer a range of premade sauces to sell alongside fresh meat with a recipe suggestion card included.
Pre-made pies are an ideal option if looking to use up fewer desirable cuts of beef and add value to cheaper cuts. Large pies can be marketed as an easy dinner party centrepiece or large family gatherings, while small single pies could be ideal for single people and the elderly, both of which may not feel able to deal with the hassle of making a whole pie from scratch just for themselves.
The key here is to ensure the products you choose are complementary to the products you are already selling and target the same ideal customer. So if your core ideal customer is currently consumers looking to show off with the best possible meat then complimentary sauces or indeed elaborate pies might be a better fit than individual ready-made stew portions.
Where possible try to work with other local suppliers and farms to ensure that any ingredients which are not produced on your farm are also produced to the same values and ethos as your farm. So if your farm is organic make sure that all the complementary products you sell are also organic as this reduces the risk of you confusing customers or diluting your farm brand.
The artisan farm diversification: Charcuterie
Charcuterie is often a popular farm diversification option for pork producers, but it is rather more overlooked for other meat producers. There are plenty of types of charcuteries which are beef-based as well as pork. For example:
Beef salamis
Bresaola
Beef bologna
Soujouk
Charcuterie is a great way to extend the shelf-life of your beef and create a wider range of products to sell to the public. This could be added as a complementary business to a direct meat sale business or this could be a stand-alone option. Many of the same considerations will be required for this as for the other farm diversification options we have outlined in this blog. You could also look to further extend your range of charcuterie by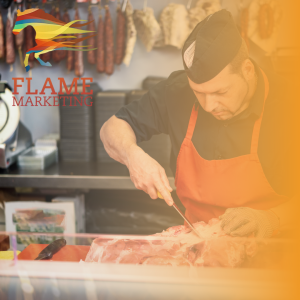 working with other local farmers to source pork, lamb or poultry. Traditionally, a charcuterie board would have also included items such as pates and cheeses so you may be able to work with local producers to add these to your range.
Lamb2ewe and Gressingham duck are both great examples of businesses that have focused on offering one meat while also creating a full and vibrant product range.
The controversial one: Rose Veal
Veal has dropped out of favour in the current British diet, this is mainly due to the public becoming aware of the appalling conditions and processes involved in producing white veal historically. Following this realisation by the general public veal crates were banned in the UK and veal became a controversial product throughout Britain. However, in recent years there has been a gentle revival of veal on high-end restaurant menus, this comes from the creation and promotion of rose veal as a far more ethical alternative to traditional veal production methods.
As yet this movement has not filtered down the masses but there could be a gap in the market for new rose veal producers either selling into the hospitality market or even through direct sale. However, the key to marketing rose veal would be to target a very specific consumer who has a high amount of disposable income and loves cooking at home this is someone who likely enjoys rose veal in restaurants and watches shows such as the 'Great British menu' and 'MasterChef: The Professionals'. You would also need to ensure you could clearly market the high ethical standards of your rose veal. It is likely you would suffer negative feedback on social media so careful management of your marketing strategy would be required. However, the benefits could be significant if done correctly.
I hope this blog has given you some new ideas for how to diversify your beef farm. When looking to plan your farm diversification we recommend booking a free consultation with us as early as possible so we can advise you on how best to ensure your project is a success.