4 Profitable farm diversifications for sheep farmers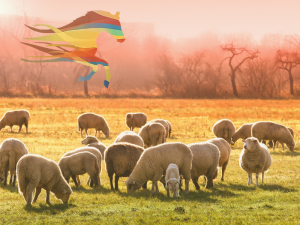 With the UK sheep sector seeing so much fluctuation sheep farmers are having to look elsewhere for extra income streams. Farm diversification helps to support farmers during periods when lamb prices are down and will stabilise sheep farming businesses.
The sheep sector has seen fluctuating prices for the last 20 years and that can be down to mostly supply and demand. With the majority of farmers lambing in April, there is a backlog of lamb then available from August to September. This causes prices to drop as supply exceeds demand. But at other periods of the year for example easter, lamb price usually booms at its highest. This is down to extra demand for spring lamb at easter but also a lack of supply of new season lamb. So, the fluctuation is mainly down the mating seasons of sheep and there in capabilities to breed for two-thirds of the year, apart from odd breeds. On top of this, there is so little demand for wool that the price has now been driven to an all-time low. These two factors added together make it extremely hard for sheep farmers to make a living.
This is where farm diversifications can be turned to for the periods of the year when low amounts of income are achieved. By doing this it will stabilise the business as it creates split income streams. Below is a graph just to show how this works.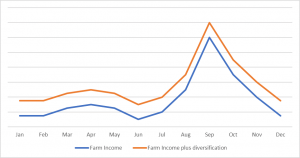 The graph shows the positive effect that farm diversification can have on a business. The black line shows the breakeven point before and after diversification. With diversification, farmers will see added income at poorer times of year pushing into profit and boosts profit more when lamb sales mainly are. It just shows how the small extra income a month could make all the difference
Now we are going to look at some great options for sheep farmers looking to diversify and add value to their products.
1. Breeding for the pet sheep and smallholding market
Smallholdings are becoming increasingly popular in countryside areas with an increasing number of people becoming smallholders or hobby farmers as part of an idyllic countryside lifestyle. This has led to increased demand for sheep as pet livestock for a hobby. This is where farms could really crack into the market as these customers are willing to pay a little more for something special. For this market, farmers may have to breed more of a variety of breeds and look at breeding pure and pedigree breeds as well. For some farmers, this would mean no change at all but for others, this could be seen as a huge change away from commercial mules and crossbreeds. A lot of research should be done when selecting breeds as your preference may not be what a hobby farmer may want.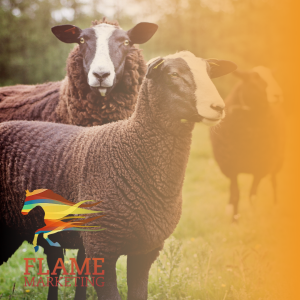 For example, you could breed the best Texel's in the country, having amazing confirmation and carcass qualities but are they what the smallholders want? Or do they want something a little different like Southdown's and Valais Blacknose as they are quirky and a bit different? But these breeds could make you a small fortune. For example, it isn't unusual for Valais Blacknose to sell for £1-2,000 regularly. The last point for this is temperament, sheep for smallholders must be well-tempered firstly as they are likely to have more human contact than commercial sheep and secondly because hobby farmers or smallholders are unlikely to have the vast knowledge and skill set of an experienced shepherd. For this reason, it is also important to look at easy lambing breeds.
The farm marketing perspective
From a marketing standpoint, it is important to consider where you are likely to meet your ideal customers and how you can add value. For example, many dog breeders will offer a puppy pack on the collection of the new puppy to help get owners started. A similar service could be offered for pet sheep owners with all the required paperwork for the sheep in a branded folder with some expert guidance such as ''things to watch out for'' or ''top tips to prevent common ailments''. This will not only improve the experience of the customer but also help to give you a reputation as a helpful and kind breeder/seller improving returning customer rates and increasing referrals.
Some chicken breeders also now offer a starter flock package which includes a selection of chickens, a cockerel, a coop and various accessories such as water drinkers. You may be able to create a similar offering with a group of 3-5 sheep, a few bags of feed, a mineral lick and some accessories. This once again allows you to add value both from the customers perspective and from your bottom line.
If you are producing multiple breeds for sale, it may also be useful to offer open days where potential buyers can come to the farm and meet the various breeds. This is an opportunity to explain the pros and cons of each breed while also offering some expert advice on starting out in sheep keeping. You may be able to offer ongoing services such as an annual foot trim and shear service.
2. Direct meat sales farm diversification
Direct meat sales are one of the most popular farm diversifications for sheep farmers and it's not a modern thing either, it has been done for years and that's because it's profitable. You are able to sell your products without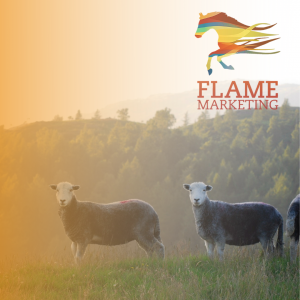 middlemen taking their cut, leaving all of the profit to the farmer. There is more work, but it is worth it.
So first, how does this diversification differ from normal? Well to start with it's a pretty similar process of producing fat lambs for the market or your local butcher. The difference begins after slaughter as you will need to organise the butchery of the lamb or even hogget or mutton. This could be done in house by yourself, or most local butchers will do it for you. These are the two main costs Approximately £10 to slaughter and £20 to butcher. After that, it's down to you how simplistic or costly you want to be with packaging etc. You will need to consider who your ideal customer is and make sure you match the packaging and delivery/collection process to their expectations.
Once you have the product ready to sell, you will need to find a customer base and here are some top tips. First of all, you will require a USP (Unique selling point), where you will be able to separate yourselves from the competition. This is where you show off what is special about your sheep meat be it lamb, hogg or mutton. These USP could be reared from birth, 100% forage-fed, rare breed, the origin, and many more different points that can be used. With that in mind, this is a great base to work from when marketing.
Next of all, you will need to decide who you will be selling to and how it will be sold. For example, if you picking the meat straight up from the butcher and selling it on the cost is far less than you storing it and repacking it. There are many options for selling, farmers markets, local community to the farm, pubs and restaurants. All of these will love to use locally produced sheep meat.
Make sure you choose one specific core market and focus your efforts on that, for more advice on choosing your ideal customer check out this blog
3. Dairy sheep farm diversification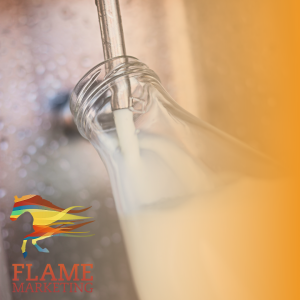 A dairy sheep farm diversification could be seen as a lucrative business opportunity dependant on your area and customer base. But this can be seen as an added income to usual meat and wool sales with little modification of your farming system. This is because ewes can be milked whilst still feeding lambs with sheep milk currently paying out at approximately £1 a litre. Obviously, there are large setup costs to develop a parlour and there will be training required to ensure the milking process is efficient as this is somewhat different from cattle milking. You would be best placed to considered goat milking as the closest example.
Ideally, a contract will need to be found as this will provide you with a direct and guaranteed market for the milk you produce. These are usually run in a similar way to a cow dairy business. However, if you are unable to find a contract the other option is to look at developing your milk into alternative products such as sheep cheese which is very popular in much of the UK. Other than that, you will need to decide on a breed of choice and ensuring this doesn't affect the meat production side of a sheep business. The usual choice for milking sheep is the Friesian breed as they are known for their high output but more recent research has been done on the Lleyn breed, which could be seen as a better alternative as this is already a commonplace breed in the UK.
If you are selling via contract then you are unlikely to need to undertake significant marketing for the business. However, if you are looking to sell directly to the public either as cheese or any other milk derivative then you will need to consider many of the same issues as direct meat sales. For example, packaging, pricing, social media and sales processes. we recently covered an example of this type of farm diversification here.
4. Making use of worthless wool
Well, not much could be said about current wool prices as it now costs more to shear the sheep than what the wool is worth. Not a great business investment! But by developing the wool or finding a customer/business person to work with to sell wool to or develop products from could be a great added income for a sheep enterprise.
Examples of products that could be produced would be Knitting/yarn production, rugs/carpets, compost/gardening uses and wool packaging. All these ideas will require raw wool to be worked and treated. Which are additional costs but can add huge value to your products. If you use white wooled breeds this could be extremely beneficial as good quality white wool is sort after by wool users as it can be turned into pretty much any colour or yarn needed. Definitely food for thought!
If you have a family member who is willing to run a wool processing business as a side business to the main farm enterprise you may find this to be a lucrative market. Firstly, you can process your own wool into products such as yarn, but secondly, you may be able to offer a processing service for other local farms and even smallholders. This could further increase the income and reduce the payback period of any equipment purchases.
As said at the start a farm diversification could be the make or break of a sheep enterprise going into the future, especially with the uncertainty ahead. The diversifications above are great ideas to develop the business further but below we have listed some other ideas that could be investigated away from the enterprise itself.
Farm diversification ideas
Farm B&B
Holiday cottages
Farm shop
On-site farm restaurant
Glamping/Camping site
Training day site
Storage site
4×4 experience days
Education centre
Driving range
Pick your own