7 places to find social media content ideas for your farm marketing
Is your business social media account looking like a ghost town? Coming up with new posts and ideas for your farm marketing can be really tough. Trying to think up new and clever ways to say the same old thing over and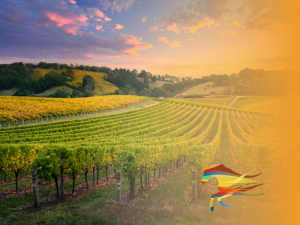 over again can be such a drain.
We are often asked how we come up with new content all the time for clients, and where we get our ideas for the content from. Many people seem to assume marketeers are simply highly imaginative and creative people who can pluck ideas from anywhere. And who's marketing imagination factory never runs dry. The truth is although we may have additional creative and writing skills, our ideas still must come from somewhere, and yes there are days when writing new content feels like an uphill battle even for copywriters and marketers. So how do we do it?
How do I come up with farm marketing content?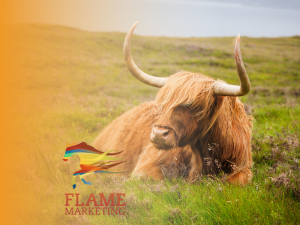 Personally, I always start by gathering all the information I can on the various aspects of the business and its marketing strategy. I will often brainstorm ideas using a mind map or similar. I am a fairly visual thinker, so this helps me to get my ideas out in front of me so I can process them and plan more effectively. But this aspect of idea planning is completely personal and you will, I am sure, all have your own ways of collecting and reviewing that information. The key is that you collect a strong list of idea sources.
Idea sources can be anything from content on your website to an article you read in a recent magazine. Your "idea sources" should help you to not only create ideas specifically based on those sources, but to also think of new idea sources and new potential topics. "Idea sources" should be points of inspiration and topics that are relevant to your ideal customer. If you don't feel you have enough "idea sources" try creating a list of media that your ideal customer is likely to consume and review if you can gain more ideas from those media outlets. Media outlets could include magazines your customers read, podcasts they listen to, or organisations and brands they align themselves with.
Here are the top 7 places I go to for ideas for farm marketing:
The product

describe your product – be detailed, imagine describing it to someone who has no idea what you do.
Describe your product benefits in huge detail rank them in order of importance
relate this to the pain points of the ICA
try to think of an example of a customer who has gained each benefit in a specific and interesting way.

Your Why

For this one dig deep, why do you do what you do?
What made you start the business?
What do you love about the business?
think about how each of these ideas could form content for your business.

Behind the scenes

Lots of customers love to know more about the process behind their product
think about how you can give your customers an insight into the process of getting your product to them.
This could be background on the farm or video content showing the production process.
For ideas check out some of the most popular pages in your industry and see what they are covering

Frequently Asked Questions

many businesses have them on their website or know what they get asked about often so write a post or blog on each of them.
If you haven't got these somewhere prominent yet such as on your website or a pinned post on social media fix that.

Competitors

check out what content your competitor is posting
never copy their content but you can use it for inspiration
What topics are they covering?
Which of their posts are doing well?

Challenge the No's

why might a customer say no to your product
what concerns might they have over purchasing
can you challenge these and give them a solution?

Testimonials and reviews

share them
comment on them
extend them into a case study
don't be afraid to ask for them.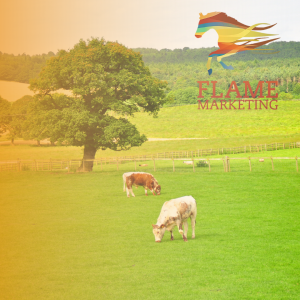 These types of questions can be applied to any agri-business or farm diversification project, simply adjust them accordingly. Answering these questions helps you to consider what your marketing strategy should be and where to make a start.
What about when your brain simply says no?
There are of course some days when it feels like you are scraping the barrel for content ideas. On those days my approach is to take a walk and listen to some music or do something outdoors and practical with my hands so my head has time to dig about for extra creativity. But always remember that not every single social media post or Instagram story or whatever else needs to be world breaking. You are allowed to have content that is a bit 'raw' it helps to show that you are a real person which only helps to make your audience feel more connected to you and your business.
Bonus Tip: Recycling!
Most of the content you write for social media will only be seen by a small percentage of your followers. So, there is no reason at all to not recycle or rework the odd social media post for those days when you really are struggling. Depending on how seasonal your business is, and the structure of your business, you will be able to recycle more or less content. For some of our non-seasonal service businesses, we have a roughly 60:40 split between new content and old content, for more seasonal businesses this might be closer to 80:20 but that is still a big energy and effort saving.
Recycling can be as simple as just copy and paste an old post. But you can also use this idea to reuse the content in different formats. Try making a video for each of your frequently asked questions if you have 5 questions that 5 video posts, but if you then take the 5 transcripts from the videos you can even use these as written posts as well.
And if you are still struggling to come up with ideas for your farm marketing, we are always here to help. Our new Flame's Membership package is ideal for start-up farm businesses looking for some extra support and direction. This package is designed for farm business who want to do the work themselves but need some tech support, some coaching and someone to guide them through the marketing process. It is ideal for new and start-up business or small side businesses.
So, what does Flame's Membership Package include?
1. Video editing service – maximum 5 videos per month
2. PR support – access a huge audience of journalists and more.
3. 90 min coaching session – monthly marketing strategy coaching
4. Mini monthly marketing strategy including:
🔥 3 x Blog Titles and Prompts per month
🔥 2x Video prompts per month
🔥 10x social media post prompts per month
All for an introductory price of just £165 p/month
To find out more and to register your interest click here.