Estate Diversification: making the most of the weddings sector
The weddings sector has long been an area of high growth for estates looking to diversify. However, the weddings sector was also one of the worst-hit during the Covid-19 pandemic, due to this many estates who relied heavily on their weddings income have struggled over the last 2 years. But now as we look ahead to spring 2022 weddings are back on the agenda for estate diversification.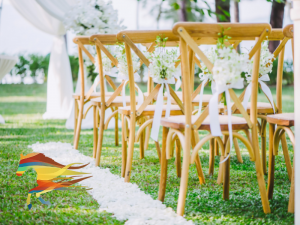 Weddings on country estates have been a popular choice for many who did get married during the pandemic as they often offer outdoor space and rural locations which fit well with the guidance regarding the spread of the Covid-19 virus. So, what trends are we likely to see in 2022 and how can your estate diversification benefit from them?
Leaning into the country estate setting
The UK Public's demand for period dramas has been well catered for during the last year with Netflix's Bridgerton breaking records left, right and centre. The hotly awaited second season airs in 2022 and wedding experts are expecting this to contribute to the demand for more traditional regency period touches within weddings. This is perfect for estates that offer a dramatic and period backdrop for trends such as Prussian blue, frills and English cottage flowers. Estates are likely to benefit from leaning into this trend and focusing on marketing their estate diversification as offering brides a wedding where the Duke and Duchess of Hastings would fit right in.
There is a growing trend for "cottagecore", "farmcore" and "countrycore" searches and themes for weddings online. The idea of the terms is to focus on country/natural themes within the wedding décor this could include more rustic styles or country cottage vibes with dried flowers and the like. This ties in well with the demand for regency touches and personalisation. Farm estates could benefit from this trend by offering outdoor and rustic spaces such as barns.
To further extend this trend there is increased demand for personal touches and bespoke elements in weddings from handwritten notes to personalised wax seals. Estates may be able to extend their services and offerings by working alongside a recommended list of artisans to help their brides find the perfect personal touches. Bonus if this uses traditional techniques or skills.
Sustainability and estate diversification
A big trend for 2022 will be sustainability within the weddings sector, estates are ideally positioned to bring this theme into their marketing and many will already have a strong sustainable ethos on their wider estate management strategies. The key is to bring this into the wedding offering and make it a core selling point, you may be able to offer carbon offsetting by planting trees on the estate, or you may be able to offer low food miles by cross-selling estate produce to the catering of the wedding.
An extension of this trend is the growing willingness of brides to choose a rental wedding dress instead of buying it. You may be in a position to offer a selection of rental gowns that suit your ideal customer and the type of weddings that best suit your estate diversification.
Extending your estate diversification income from weddings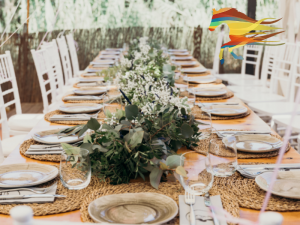 Throughout 2021 there was increased demand for mid-week weddings this was in part due to many venues being fully booked during the periods when weddings were allowed. But this demand also stems from a desire to take advantage of mid-week discounts and the increasing number of flexible working opportunities that allow couples to organisation mid-week events. This is great news for your estate diversification income as you now have an increased number of potential wedding dates to offer while also reducing the reliance on weekend dates during the high season.
Those estates which make the best use of the weddings sector are those which extend their offering. This can be done through optional extras such as offering accommodation and activities on the estate. This is particularly popular for couples who want to organise a multiple-day wedding celebration or those who want to combine their wedding with a mini-moon (mini honeymoon).
Another option is to run wedding-related events such as wedding fairs, this not only provides an opportunity for couples to see your estate and offering but also introduces your estate diversification to wedding professionals who may then be in a position to promote and recommend your venue to couples they meet with. Some estates run one large wedding fair each year but more and more are now looking at running regular mini wedding fairs and networking events that are themed in some way offering more opportunities to target different sectors of the market and attract a wider range of wedding professionals to the estate.
Marketing your estate diversification
There is now a wider range of weddings options across the UK and many couples are no longer limited by their local area. Therefore, the key to the successful marketing of your wedding venue is the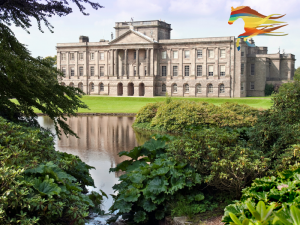 need for a clear target market or ideal client (ICA). For some estates diversification projects this may include a clear focus on those looking for a country retreat or country-focused wedding, or others this could be about sustainability. The key is to find your niche and develop a marketing strategy around that.
If your ideal client is between 25 and 45 it is likely they will use Instagram as a significant aspect of their wedding inspiration, research and planning. Therefore, it is important to ensure you are actively engaging on this platform and making the best use of the trends on this social media format.
If you are planning an estate marketing strategy to promote your estate diversification then we would also recommend seeking support from marketing advisors, you can Check out our farm marketing strategy guide here, or you can book a consultation with us here.