Dairy farm grows thriving milk processing and retail business
Farm diversification at its best as dairy farm turns to sell their own cream and milk on a huge scale with over 50% of the farm's output being sold off of their doorstep.
When sixth generation farmers Daniel and Gideon Lacey realised the cows weren't paying the mortgage, they knew they had to make some changes to stay in agriculture.
What started as a means to allow the family to continue milking and Daniel's sons Ed and Will, to return to the farm, has grown into a thriving retail venture.
The Lacey family have been at Bolter End Farm in Lane End, near High Wycombe, since the 1880s, but after buying the 140-acre farm in 1999, they knew they had to diversify to future proof the business.
Diversification details
Name of diversification business – Lacey's Family Farm
Type of business – On-farm milk and cream processing and bottling, and farm shop and butchery
Location – Bolter End Farm, Lane End, High Wycombe
When started – 2006
Building the processing plant
At the turn of the century, work began on preparation to set up a milk processing unit at the farm creating the farm diversification.
First, they needed a new milking parlour and then they could build the processing plant, which was installed in 2006. Since then, a bottling line went in in 2009 and their self-service shop at the farm became a full farm shop and butchery in January 2016.
"We're not in prime dairy country, but we are producing a premium product and so we want a premium price for it," says Ed.
"We're producing top-quality milk, but we were getting paid whitewater prices. I used to feel robbed every time the milk tanker drove out."
They still sell a chunk of the 6,200 litres a cow a year their 140 Guernsey cows are producing to Arla, but now just over 50% of milk produced is processed on-farm, to be sold through doorstep deliveries, the farm shop or independent retailers, cafés and restaurants.
Processing milk Over 50% of milk produced is processed on the farm Financing the project
The farm and farm diversification are run as one business, a partnership between the four family members. In total there are 19 full-time and part-time employees.
"Looking at it now, it might be better if they were run as separate businesses, but It's been more of an evolution than a jump, so it's just happened this way. It's all so entwined, but the costings are kept separate," Ed explains.
The parlour and plant cost just shy of £300,000, financed over seven years, and then a further £100,000 was spent to add in the bottling line after three years.
The family managed to secure Leader grants for the processing equipment and received around £40,000 of funding across the two projects.
However, the set up of the farm shop happened quite quickly, so the £70,000 initial cost was funded through the farm and finance agreements.
Ed says that the shop has to be profitable and stand on its own two feet to make it worth all the extra work. In its first year, the turnover of the shop exceeded that from the cows, so it has got off to a strong start.
The shop was financed over three years and funding was harder to get for this because of financing secondhand butchery equipment.
The farm shop and butchery flung open the doors in 2016
Farmgate sales
The family was already familiar with selling direct as they have been selling eggs from their 2,000 laying hens for longer than Ed can remember, and they had a self-service shop at the farm with eggs and a fridge for milk and cream.
Dairy Farm Diversification
He and twin brother Will always knew they would end up going into retail, but a phone call from the local butcher asking if they were interested in their equipment because they were selling up kicked off the move from self-service to a fully staffed farm shop.
"We never used the butchers, we used to raise our own meat for the freezer," says Ed.
"So Will worked at the butcher's one day a week to learn about the business, butchery and meet the customers."
The family team also sought business advice from agricultural consultant Promar International. With a retail expert, they conducted surveys asking what customers wanted from a farm shop and buying factors.
This helped them realise that they needed to be a convenience shop as well as a farm shop and it helped to define their sourcing policy. It also highlighted that a good car park was important to 93% of respondents.
"We want the shop to be unique. We want produce to be good quality and local; we don't really want one without the other where we can help it," Ed explains.
Their other source of market research is the drivers who deliver the award-winning milk to wholesale customers and are always seeing what others in the industry are doing.
Farm shop
The shop tries to be a convenience shop, too, but products are sourced locally wherever possible Spreading the word
Welcoming more than 900 visitors a week across the six days a week that they are open is partly due to the business's marketing. They have a website, but probably put more emphasis on their social media.
The vans for milk and egg rounds are sign written, there is good signage outside the farm and Will writes a piece for the parish newsletter, increasing contact with the local community. They also welcome more than 2,000 visitors when they hold Open Farm Sunday events.
"We don't do any great things, but it works," Ed says. "The farm is our USP. I think that's agriculture's biggest strength – that we are an industry everyone wants to be involved with."
A farm walk and BBQ evening for wholesale customers has been successful in the past.
"They're the face of the business and it's very easy to forget that," says Ed.
The Lacey's Family Farm name is now quite well-known in the area. This is their brand name, while the company name is EJ Lacey and Sons.
"We thought about various options and while we worried Lacey's Family Farm was a bit of a mouthful, we are glad of it now because it is exactly what we are and it has the family farm element in there."
farm diversification Q&A
Was planning permission needed?
Yes, we had to get planning permission for the processing unit.
Are any special qualifications, licences or permissions needed (other than planning)?
A Food safety is of maximum importance and so the business needs three separate food hygiene ratings – one for the eggs, one for the milk processing and one for the shop.
Alongside this, there are the usual Red Tractor farm assurance regulations to comply with and HACCP (Hazard Analysis and Critical Control Points) plans have been completed for processing and butchery.
What is the market like in your area – is there much competition and how do you compete?
Having a milk that is high-quality Guernsey milk, we provide a different product to the regular milk that we are competing with on the shelves.
This gives us a strong starting point as we are offering not just a local milk but a superior one as well.
What was the most challenging aspect of setting up the business?
Going into something we knew very little about. Our retail knowledge and education is make it up as we go along really, and hope for the best.
We have found people to be really helpful and willing to share. We ask people anything, and try to glean as much advice along the way as possible. Farming gives you a lot of transferable skills.
What is the most challenging aspect of running it?
Effective communication is vital for us to manage our business. We are so diverse, time gets split between different aspects of the business, so in order to know who's where and what's to be done we need to be continually trying to improve our communication.
Communication to customers is vitally important as we are trying to build a relationship with them to keep them coming back – to do this we need to be constantly telling them about the farm, what we do and why we're special.
What are the main risks in this type of business?
We always say agriculture is volatile and retail is fickle, but it is easier to manage fickle than volatile. Keeping up with retail trends is important and trying to understand what customers want.
Another risk is staffing because their relationship with customers is so important and our staff are the frontline of our business.
Will and I spend a lot of time covering holiday and sickness. Neither of us can do every single role in the business, but one of us can step into every role.
What has most surprised you about this venture?
I don't know if it was necessarily a surprise, but the public support and sense of community has been amazing – the sheer support for the farm in general and people's desire for it to succeed.
What key advice would you give to someone else considering diversifying their farming business?
A Do what fits your farm or personality. You need to do something you enjoy or you will struggle to make a success of it.
And looking at the strengths and assets of the business is the best starting point for working out what opportunities there are.
Farm facts
ProductsThe Guernsey cows at Bolter End Farm are yielding 6.200l a cow a year at 5% butterfat and 3.3% protein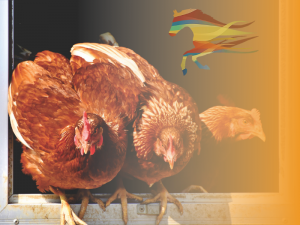 440 acres farmed across seven farms, with rented grazing
140 in milking herd and 300 in total with youngstock and beef
2,000 laying hens
Growing 100 acres of winter barley and 50 acres of maize
Finishing Guernsey purebred steers and Angus cross calves
Finishing some for veal at eight months old
Veal sales
Rose veal has been a success at Lacey's Family Farm.
Bull calves are finished at eight months on a ration of 2kg concentrates, once-a-day milk and barley straw.
The prime cuts of meat, escalopes and roasting joints are popular and the butcher turns the forequarter meat into products such as koftas or sausages.
Processing the milk for a farm diversification
The processing unit, which is busy three days a week, has two pasteurising machines and a skimmer.
Once the milk is pasteurised, some of it will be bottled as whole milk. The rest will be skimmed, to produce the skimmed milk and double cream.
The semi-skimmed milk is a mixture of the whole and skimmed milk. And the single cream is a mixture of double cream and whole milk.
Taken from farmers weekly
For more information check out our website at Flame Marketing