Finding a demand for their unique sheep's milk product, Tim and Tanya Spittle's new farm diversification is helping them to safeguard the future of the farm.
The Cotswolds are renowned for their scenery and picture-perfect villages. But it will soon be known for a particularly unique farm diversification project – rare sheep's milk vodka.
Tanya and Tim Spittle, who farm at Sheaf House farm in Blockley, Moreton-in-Marsh, have been gradually growing their business over the years, diversifying bit by bit, and their latest venture into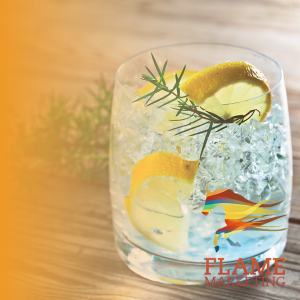 vodka has seen them successfully break into the drinks market.
Sheaf House has been in Tim's family for about 50 years and was originally a dairy farm. The family took it back to beef, sheep and arable after Tim's dad, John, passed away, but at the time, Tim was still too young to take over, so his mother, Wendy, tenanted the farm out.
His return has, however, seen him and Tanya gradually take the farm back. Tim, 50, says: "We have taken on other bits of land to get the acreage up. Farm diversification has been absolutely paramount in the survival of this farm and will be going forward."
It began 15 years ago when Tim built a fitness business on the farm, this was the first taste of farm diversification on the Cotswold farm but not the last. Eventually, Tim expanded by renovating an old cattle barn into what is now a modern, spacious gym which has more than 300 members.
He says: "There was a lack of fitness outlets in the Cotswolds. We have a large field space and in Lockdown we did personal training sessions outdoors. And now people want to keep that going. In the spring and summer, we will allow people to use the woods and take the kit outside. I think a lot of farms should look at the opportunity for outdoor fitness, it led the way to giving us the capital to make changes and improvements and take back the farm."
The couple have gradually restocked over the last five years and altogether run just under 121 hectares (300 acres) across various sites, with Sheaf House extending to 60ha (150 acres). Their flock can reach up to 600-head and if they can take on more land they hope to push that up 1,000-head.
They mostly run Poll Dorsets to sell at local markets, but keep Ryelands alongside to provide meat for their box lamb scheme, yet another farm diversification scheme the couple have set up.
"The box scheme is hard work, but we set it up three years ago because we have a ready market with people from the gym," says Tim, who is also a personal trainer.
The sheep are predominantly grass-fed, with a low input system at the heart of their enterprise. Lambing starts in January, in order to suit their various routes to market. Tanya, 38, says: "Tim and I do everything ourselves, so we do it in groups and will be going through to the spring. The commercials are lambed first and we leave the milkers and cross-breeds until March/April."
Tanya, who met her husband through the on-farm gym, has a background in marketing, but decided to leave her job so they could focus their energies on their new idea four years ago – sheep's milk vodka. And their innovative approach to business is borne from a passion to ensure the farm reaches its full potential.
Tanya says: "We have always loved vodka. We were thinking of alternative farm diversifications and thought it needed to be different and niche. We knew about the cow's milk vodkas and thought,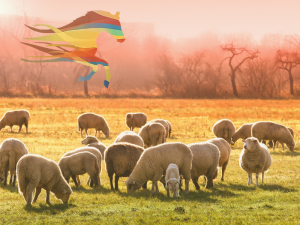 why has nobody ever tried it with sheep's milk? And to further that, what could make it even more rare?"
And that added something came in the form of Valais Blacknose sheep. Blacknoses traditionally are not, says Tim, milking sheep, and in Switzerland they are produced for meat. The couple cross them with commercial milking sheep, like Frieslands, which means they retain the 'milkiness and add sturdiness'.
"It's interesting with the Blacknoses, because in many ways some farmers may at first think it's gimmicky, but it's about the nature of the animal and if you're going to make something super premium, you use super premium sheep," says Tim.
"They have an unbelievable temperament and they're almost too quiet; too friendly. But they're better on their feet and they're certainly bigger than a normal milker. You also lose some of the tiny complications of the Blacknose, like the hair between the hooves which is where you get lameness coming through and their horns disappear. That is a stroke of luck, but if that didn't happen it wouldn't work as well because the milking is done with a traditional yoke."
They now have a mixture of milkers and Black Lions, running around 200, and the name of the product, Black Lion, is, says Tanya, a nod to the traditional Cotswold Lion sheep.
"We're still small batch, so we have far more milk than we need," says Tim. "Yields vary, and you can go up to 190 days maximum of milking, but you would get a litre per ewe per day and that would be only for a few weeks."
The primary use for the milk is sheep's cheese, and the whey is then utilised for the vodka, using a local distiller on a nearby farm, keeping everything locally for, says Tanya, environmental purposes. The whey is fermented and then distilled.
"It retains a certain flavour and character from the milk, which is synonymous with milk vodkas," says Tim. "There's only seven, that we know of, in the world. And they're predominantly cows."
They are registered with the International Drinks Specialists, which is a global panel of drinks experts, and Black Lion vodka received a highly sought-after score of 92 out of 100, based on flavour notes and character, rating how the couple's product stands against other vodkas.
Launching last year, they sell it direct to consumer through online sales, but they also sell through some retail shops, including some specialist shops in London.
Tim says: "It's a premium product and small batch, so it's never going to turn into something mainstream. And part of its attraction is its rarity. It's £75 per bottle, but that's because of the process – it's two years before you can even produce something, from the base point of getting the sheep into lamb."
It is a versatile sipping vodka and best served from the freezer over ice or neat. But aside from its flavoursome qualities, it is the farm to bottle story that is also catching the consumer's attention.
Tanya says: "We've done a few tasting sessions and so many people say they don't really drink that much alcohol, but they want to buy it because of the story behind it. People are so much more interested in provenance."
Having only launched last year, the response, they say, has been overwhelming. But it is testament to the pair's motivation and a willingness to find interesting and new ways of expanding the farm business. And they admit although luck and chance has perhaps played a part, determination is key and it has 'been a massive journey, and many people wouldn't think a little farm could do something like this'.
"Even from a marketing point of view, people might think how would I even go about doing that? And think they can't afford to pay someone to do things like social media. But we've learnt that nobody can tell your farm's story like you can," says Tanya.
In the first six months of business, the couple have moved into year two of their five-year business plan, which even they themselves are humbled and overwhelmed by.
But really, it is no surprise. Both love – and rightly so – what they have created. They have multiple thriving enterprises that are no doubt ticking over nicely due to the couple's ambitious and proactive nature. But it is not purely business. The farm means a lot to them both, and perhaps, if it stands the test of time, could be passed onto the next generation, their son, Archie, eight.
"I'm not sure small farms will survive if they don't consider diversifying," says Tim. "But we need to keep our British farmers and the farming community is tougher and better than they think they are. They're resilient. But they have to be prepared to change and get it wrong. We're talking like we know what we're doing, but we don't know what's going to happen in the next five years. But we're willing to give it a damn good go. We need to keep small farms, because what a loss that would be to our communities."