The barriers to starting your own farm shop and how to achieve success.
Farm diversification, to save your farm.
Today it is almost impossible for a family farm to survive on traditional farming alone, farm diversification allows farms to become financially sustainable. Farm diversifications are now immensely popular, with a range of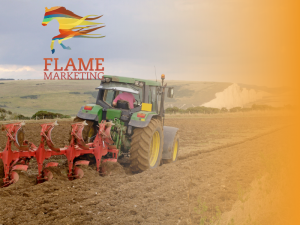 options available from cheese making to a paintball course. The options are endless!
But one of the most popular diversifications of the past decade would be farm shops. What could be better, showcasing the products you produce on-farm for the public to see. Fewer food miles and you can even talk to the farmer about how they produce the product. It's a win, win without any middlemen! Or so you might think. But It's not all plain sailing! It takes a lot of hard work, luck, and determination to achieve any successful farm diversification.  But they are a great way to improve cash flow in a farm business that can be dependent on seasonal income, therefore increasing the stability of the farm business as a whole.
There are many barriers and hoops that need to be jumped through when developing a farm shop. So here at Flame, we have put together a little something to help point you in the right direction.
Starting your farm shop – the legal bits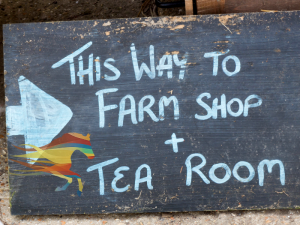 First, we will look at developing the shop itself and things you may need to do. So, what will you sell? meat, veg, dairy products maybe even gifts.
All the correct standards need to be put in place. From food hygiene standards to food safety guidance, manual handling, fire safety, and the list goes on. The most important being, to register as a food business, which enables you to sell food. It is quick easy and free. Food law requires the registration of activities where food is supplied on a regular and organised basis. This is required whether food is given away for free or sold. To find out more about guidelines and standards that need to be passed when selling certain food products click HERE.
Next, you will need an area for customers to park. One of the key things which a lot of farmers forget about. Customers will want a nice clean area where they won't have to wade through mud, or muck for that matter, to get to the shop. This may only be 4-6 spaces, but it looks so much more professional than cars plonked around a farmyard (which is also unsafe).
Safety is key! Which happily moves onto the next point. As the farm diversification is set up on a working farm, customers are more than likely to encounter farm machinery and livestock. So, the correct procedures need to be put in place to always keep yourselves and the customers safe. Going through a health and safety assessment would really help you with this.
Selling farm produce to the public
So, imagine the farm shop is now set up with parking, high-quality produce and all the standards have been met for safety and food etc. You might need new members of staff. Finding the correct kind of staff members is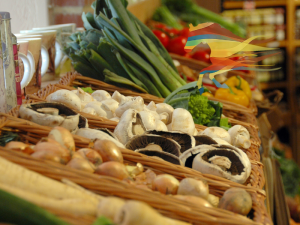 key to keeping the right feel to the shop and most importantly happy customers.
The next step is to work out how best to sell yourself, what image do you want to convey to your customers and how will they remember you. The key to this is marketing and branding, good branding will help you to communicate to your customers what makes you special and why they should buy from you.
At the end of the day, you need customers, and you can't just open up a farm shop in the middle of nowhere and not advertise yourself, or else the shop will be empty. And this is where we can help you at Flame Marketing! We are experts at agri-Marketing and know the best ways in which you can sell yourself. Whether it be us doing all your marketing or just giving you a helping hand and advice. But before we get started here are a couple of things you can look at to get the ball rolling.
Marketing your farm shop
The first place to start is to consider what makes your farm shop different and who your ideal customer is. By developing your image of that ideal customer, you can better understand the type of marketing messages which are going to attract them effectively. Your ideal customer also informs what type of branding will suit your business which is key to presenting a professional and cohesive image to your customers.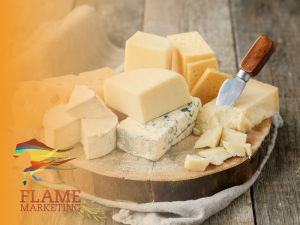 Branding focus on selling yourself not products. If people resonate with your farm brand story they will buy the products. When working on your brand it is important to keep your ideal customer in mind. A simple and easy to work with logo will be much better for you in the long run than an overly complex logo. Something that looks professional and will tell the customer straight away what you are and what you do with no confusion.
Using your logo, you can then build from there, creating social media platforms and advertising locally, building a following. When doing this always make sure that you are giving the right image and messages to your customer so that you are targeting your ideal customers. It only takes one bad upload to put people off. Regularity is also key. Keeping customers informed regularly of new products and anything out of the norm that may be interesting. By doing this you will grow your business and build up your farm brand.
It is much easier to keep customers than to gain new customers so ensuring you are attracting the right audience and giving them a great service, goes a long way to ensuring your farm diversification is a success. The key to this is finding something special about what you do, that puts you apart from anybody else. Then shout it from the rooftops! This is what will grab people's attention.
An example of this could be if selling Aberdeen Angus beef. You could say "we sell produce Traditional British Aberdeen that's born, bred and spent its whole life on the farm with no food miles". How many people can say things like this?
So those are the hints and tips! Now it's over to you to give it a go! We are always here to help at Flame Marketing to help in any way. Don't be afraid to get in touch. We also offer a FREE initial consultation to help you out and we can help you plan your marketing strategy.