Farm diversification: Woodland space ideas, grants and examples
John Tucker – Director of woodland creation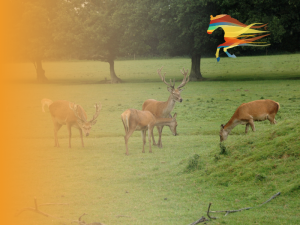 We live in uncertain times. Already many farm businesses have felt the need to vary their range of products and services to be able to turn a profit in terms of a farm diversification. This number is likely to increase due to Brexit, which may mean huge changes in agricultural support and in costs and income from farm production. Planned carefully, trees and woods could provide an additional income stream as well as benefiting crops and livestock.
What is farm diversification?
Diversification means not having all your eggs in one basket and trying to spread the risk by having a number of different income streams. Popular options include farm shops and venue hire, which can bring in valuable business if weather causes a bad harvest or commodity prices are unfavourable.
Should I diversify my farm?
Diversification isn't a decision to take lightly. Before considering branching out, you'll need to assess your current business and how productive your land is – though it's likely you already know how close you are to breaking even each year.
Lots of research will be needed to come up with an idea that could work for your business, and to determine its possible market and competition. Talk to fellow farmers about their experiences to help work out if it's the right route for you. When you settle on something, you'll need a detailed business plan and sufficient capital to get started. It's hard work, but diversification can be rewarding too – and not just in profits.
Trees = profit
Trees have so many benefits on farm. Their roots allow much great water penetration than grass or arable crops and thus soil erosion and run off can be reduced. Increasingly hot summers have the potential to reduce milk yields but the shade trees provide for cattle could help alleviate this. Tree shelter in winter for outdoor lambs can improve survival rates too, especially in that critically vulnerable first 48 hour period.
Take a look at marginally productive land which could be planted, and at existing trees and woods on the farm. Trees and woods are often regarded as an unproductive asset by farmers but in these times of increasing pressure on farm incomes, it could be time to think about how they might help diversify farm income, both in terms of generating additional income and reducing costs. Here are some examples.
1. Firewood
If you already have mature woodland on farm, it may be an untapped source of timber, firewood or biomass either for home use or sale. Alternatively, planting a new woodland offers the opportunity to use less productive areas of the farm and put trees in a place where they can really add value.
A mixed broadleaf and coniferous woodland could see firewood production after 12- 15 years and the same wood, if well sited, could be a real bonus for a game shoot.
Watch Mike Weighell explain how trees are providing shelter for lambs and reducing wind erosion across arable fields on his North Yorkshire farm, as well as facilitating sustainable wood use and benefiting wildlife and his small shoot.
It's always best to have a clear woodland management plan to guide any felling – the Institute of Chartered Foresters has a good list of consultants that can help you do this.
2. Recreation
Mature woodland can provide a backdrop for income generating recreational activities such as glamping, high wire experiences and forest schools. Careful planning is vital, however, to avoid damaging the woodland habitat. An early conversation with the local planning authority is highly advisable.
Forest schools provide hands-on learning experiences for children and bring them closer to nature.
3. Fruit and nuts
Incorporation of fruit and nut species in any planting can produce alternative income streams.
Martyn Bragg, an organic farmer in Devon, reaps the rewards of productivity both above and below ground having incorporated fruit trees.
Watch farmer Stephen Briggs explain how he planted apple trees which give fruit yields similar to the surrounding arable crop and gross margins typically c.£1000/ha.
For more information about Agri Marketing check out our website at Flame Marketing
Article taken from The Woodland Trust