Farm Marketing: How to Reach Farmers and Agri Businesses who are not on Social Media
Farming is an industry which sees the average age of worker now being 59 in the UK as of 2019, the latest figure. This is a good indicator as to why many generational farmers have a fear or hatred of the words farm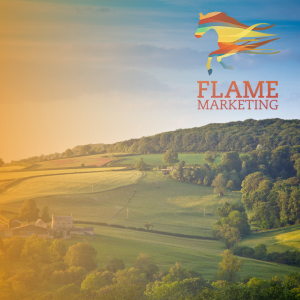 marketing. It also shows how there is starting to be a lack of the younger generation wanting to work within the farming sector. It could be argued that this is down to the lack of opportunities as the number of working farms decline. But also due to an industry that is seeing farms been swallowed up into larger businesses.
So, with this being said it is pretty obvious that the UK has got a serious problem on its hands and young farmers need to be encouraged into the sector. This whole point leads us along the road to an industry which is distanced away from social media. Don't get me wrong there are farmers of the older generation on social media, but the majority aren't or don't have the skill set to enable them to use technology to be able to influence and engage with customers. With the rise in social media and advertising through all of its different platforms, it is a huge missed opportunity for these businesses. And there is a great opportunity for these businesses to thrive online and paint the agricultural sector in a great light.
What is Farm Marketing?
Farm marketing has been around forever, and some would say they have done it way before some other industries. It's just the fact that the methods haven't changed. Just an example, when driving through the countryside how often do you see a sign for 'Fresh eggs, £2 a dozen'? Well, that is in fact farm marketing. But realistically in the modern era, yes you will pull in locals, but you won't pull in customers from elsewhere. It may be a lost cause for some but it's definitely worth the effort to get them on board and to get those farm businesses into the public using social media.
The question is how though? Well, you won't be talking to them online. But the old past time of County shows and events is the place for a conversation. Farmers are out for a day out and love a good chat, these are great opportunities to socialise and showcase the world of modern farm marketing.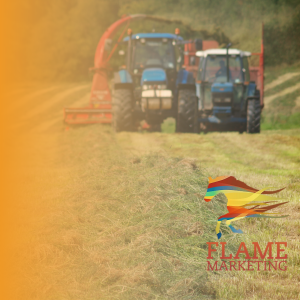 Farmers are there to see new things and learn about how to develop their business whereas at home working they are in work mode. So, these events are a great chance to develop the relationship between us at Flame Marketing and farmers. The other method in which connecting can be made is magazine marketing as the majority of the older age group of farmers would much prefer to read an article than watch a TICKTOC. These aren't just methods in which we can communicate with the farmer to help them, but they are a great PR opportunity for the farmer to sell themselves!
PR as part of Farm Marketing
As we just hit the point that the easiest way to communicate with farmers is face to face this is where Public relations (PR) is so important. At Flame Marketing we give the opportunity to farmers and agri-businesses to get help and guidance all the from as little or as much help as they need. As we believe every person has a different skillset and capabilities. Our newest membership package is at completely the other end of the spectrum from our fire starter package and allows you to learn the skills needed to get the best marketing for you and develop your PR. This includes coaching and a strategic plan for your business. To learn more about this click on the link HERE
But back to what you can do now to reach farmers, not on social media. As just said PR is so important and if you are able to get media coverage in the likes of Farmers Guardian, Farmers Weekly, BBC or even small more specific forms of media it's a great way to get yourself out there. The key is to promote yourself on the right platform in front of the right people. For example, if you see the opportunity for an article in gardeners world will that be directed at the right audience for you? It may get a few people interested but not as many as if you are targeting your audience directly with an Agricultural specific form of media.
5 best ways to help reach farmers with advertising and media
So here are the 5 best ways to help reach farmers with advertising and media not using social media
Print media
Pros: Magazines and newspapers provide a very large, often traditional, audience to get your products in front of, with a proven track record. Perfect for a farming audience. Adverts can give you a huge amount of exposure and are brilliant for new product launches where there is a concern about brand recognition or for mass marketing.
Cons: Print media isn't the cheapest option and you will need to think about how you can make your advertising stand out from the crowd so people will pay attention as there are a lot of people you are competing against
Classifieds (Add on to print media)
Pros: The classifieds section of agricultural magazines such as Farmers Weekly target a very specific audience of which are looking to purchase. This is perfect if you're trying to sell a product that is well-established, and the need for the said product is well known amongst your target audience.
Cons: If you are trying to sell a product that isn't particularly recognisable, or isn't very glamorous, your advert may be a little overshadowed by some of the more appealing bits of farm machinery on sale
Face to face (Shows and events)
Pros: You can get your product right in front of the customer and if your product is something that needs to be demonstrated to be understood, this might be the best way to do so. This relies on your ability to sell your product and you know immediately if your tactics have worked.
Cons: If you or your employees are not particularly strong sellers, then you may struggle to get the best out of this. Face-to-face events also need investment over above purchasing stand space and manning it. For example, you must make up banners, flyers and other sales collateral to make an impact.
Radio
Pros: Radio is once again a very broad-hitting advertising channel and as result is rarely used in UK agriculture. Depending on how you spend your money, you could be hitting tens of thousands of people. But if you run a farm shop or petting farm, radio might be the right fit if lots of people in the local area listen to a regional radio programme.
Cons: Radio, unfortunately, lacks a particularly sophisticated 'tracking' system. You may find great success from radio advertising but getting any detail about exactly what is working is simply not possible.
Promotional item giveaways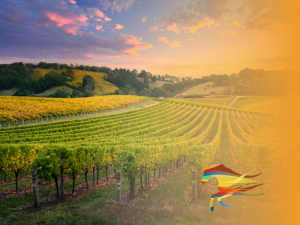 Pros: Promotional items give a business potentially huge amounts of brand awareness. Unlike many of the other channels on this list, promotional items may continue to have an effect long after you have stopped producing them. Things like t-shirts, bags, pens and rucksacks may enter daily use amongst your target audience.
Cons: Promotional items also involve losing a degree of control – if someone commits a crime whilst wearing a t-shirt branded with your logo, your brand may be damaged by association, despite no wrong-doing on your part.
Those are the 5 methods which we hope will get you on the right track, to move forwards with your advertising. Even though farmers may not be on social media there are so many methods to target them as you have read throughout. For any more help or guidance don't be afraid to get in touch as we will be more than happy to give you the guidance you desire.