Farm Diversification special: Farmers cash in with campsites
One of the most common farm diversifications projects are campsites. This article looks at how post Lockdown these could boom! A great read if you're looking into developing your own campsite farm diversification.
With restrictions easing and a relaxation in planning policy for campsites, Farmers Guardian examines one of the quickest and easiest ways to take advantage of the staycation boom
The number of working farms looking to cash in on staycations by setting up campsites has skyrocketed so far in 2021.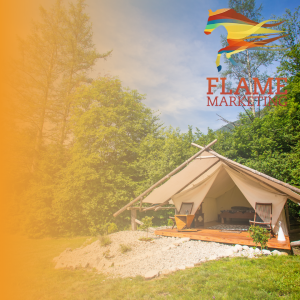 And many were operating temporary sites to take advantage of the peak holiday season.
"Farm tourism is booming," said Kim Walton, founder and farm business advisor at diversification specialists Rural Ventures.
She added with foreign travel restrictions and shaken confidences have caused an upturn in staycations, with many craving the 'great outdoors'.
And there was no sign of it fizzling out.
Temporary
According to Pitchup.com, of the 2,000 campsites it had listed more than 700 were working farms, with 300 operating temporary sites.
It comes after a change in planning policy increased the length of time farms and other land-based businesses can legally operate a campsite without planning permission from 28 days to 56 days. This rule is in place until December 2021.
Dan Yates, founder of Pitchup.com said other factors in setting up included concerns over falling support payments and about the government's Environmental Land Management (ELM) scheme.
Mr Yates said farmers were turning to temporary campsites in droves because they are the quickest and easiest form of diversification to get off the ground.
He said: "Establishing a campsite is very easy. At their most basic, all you need is a patch of land and running water, which most farms have already, and some toilets, which are easy to hire.
"Crucially, you do not need planning permission to operate one for up to 56 days per year."
With staycations booming people were crying out for beautiful areas of the countryside where they could enjoy a relaxing break.
"Farmers are perfectly placed to provide that," he said, adding farm based campsites could decide how many guests they wanted and with high demand those pitches were filling up.
Lucrative
Mr Yates added as well as being quick, convenient, and unobtrusive on day-to-day farming operations, pop-up and permanent campsites can be very lucrative.
"We have had one farm in Cumbria take more than £7,000 in bookings in a single day," he said.
"We have seen others take as much as £13,000 across a weekend and £50,000 over a week.
"Although most campsites do not generate quite this level of income, even small pop-up sites – which are the easiest by far to accommodate – return on average £13,000 in extra revenue per year, and many take tens of thousands of pounds more than this."
And Mr Yates expected more farmers would try this diversification as summer approaches.
Ms Walton added: "Farm tourism is booming.
"A temporary 30 pitch site with an average occupancy of 40 per cent charging £25 per night will make a £16,800 gross earning," she said.
"This is a prime opportunity – whether as a one-off income gain or a test run for a future venture – without the requirement to obtain planning permission or a site licence."
Ms Walton highlighted the key things to be aware of for farmers looking into opening a campsite:
Suitability
Farmers need to first assess whether their farm was suitable for a campsite by looking at the physical site and the requirements on their time.
Mrs Walton said: "Guests need to be able to move around safely. Site maintenance will include regular cleaning and waste organisation, administration, marketing, and interactions with guests, requiring both people and time."
Site owners should clearly mark traffic and pedestrian routes and private areas – and inform their insurance supplier to ensure public liability cover.
Privacy also needs to be considered.
"Keep sites relatively close for easier management and security, but do consider both farm and guest privacy," she added.
Pitching
Farmers should work on an average of five acres per 30 tent pitches. Sites need to be flat as possible for guest comfort.
Tent guests prefer 'pick your own' pitching but marked out pitches are an option. Mrs Walton recommended having clear instructions on pitch distancing; at least a 3m gap, but ideally 5m.
Campsites have requirements in law. For every 30 pitches, campsites need to have:
Two female toilets with two wash basins
Two male toilets – one can be a urinal – with two wash basins
Two showers
At least one water point that's safe for drinking
Sites also need covered bins for rubbish and recyclable waste.
Mrs Walton also suggested considering hot water and washing up facilities as well as a temporary electricity supply.
"You could also offer glamping in pre-pitched yurts and bell tents, but glamping guests will expect home comforts," she said.
"You do need to consider this as it will increase costs and turnaround time, however you can charge significantly more per night."
She also encouraged farmers to identify where they can generate additional income such as selling firewood and hiring firepits.
"You could sell essential food items and toiletries – even local food produce boxes," she said. "Partnering with local catering companies for themed food nights are a draw; talk to your local council about food and drink licences."
Marketing
When it comes to bookings, Mrs Walton suggested using a booking site to handle the entire process.
"Use social media to sell the experience with high quality images – showcase your farm and the experience they will have," she added.
"You also need to be quick at answering enquiries, otherwise people will go elsewhere."
Permissions
Farmers need to inform the Rural Payments Agency of any change in land use.
Farmers cannot claim BPS payments on land that is used for non-agricultural purposes for more than 28 days per year.
Avoid planning permission and campsite licences by:
Operating for no more than 56 days in a year.
Operating for fewer than 42 consecutive days – clearing site when not operating, e.g. a few mid-week days.
Only allowing/providing removable tents – includes larger structures like yurts – and having removable facilities like portable toilets and showers.
Avoiding permanent development like trackways and buildings.
Here at Flame Marketing with offer help and guidance when setting up farm diversification. Including a FREE initial marketing consultation to set up a plan of attack for the direction you want to target for your business.