Me and my farm: Farm Marketing at Cowley Hill Farm 
Hello everyone, I am Will Roobottom, Marketing assistant at Flame Marketing and today we are going to have a little more of a look at what I do away from Flame Marketing. So, for those of you that don't know, I am from a farming background, and we have a family-run farm at home. We have an equestrian and forage based farm diversification and also use farm marketing for our farm. 
Farm Profile  
Farm Name: Cowley Hill Farm (Staffordshire)
Farm business size: 550 Acres
Main enterprises
160 Pedigree Lleyn ewes plus followers
Hay and Haylage production for the equine market
180 acres Italian ryegrass
80 acres ryegrass mix
40 acres Timothy mix
40 acres riverbanks and hill, remainder traditional mixes
The road to working in the agricultural sector
From a young age, I was into farming and used to sit on the tractors alongside dad and grandad for hours on end. But when I came into my teenage years, I turned to want to be an accountant. A shock I know. Until I was looking to earn a little bit of extra money and spent a summer back on the farm when I was 16. This is where I fell back in love with farming all over again.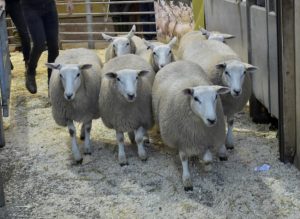 I turned down an apprenticeship in accounting and travelled up to Yorkshire to study agriculture at Bishop Burton College. These were hands down the best 2 years of my life living away whilst learning about my newfound passion for farming. It also produced my big interest in sheep. But having no livestock on the farm for 20 years it was a real challenge to persuade everyone it was a good idea. So many fond memories in Yorkshire including Stockmanship competitions and the Yorkshire show. But finally, after a year of persuading, I invested in 5 ewes and a tup, the start of the sheep enterprise today. 
After college, I went on to study Agriculture with Farm Business Management at Harper Adams University whilst working at home whenever I could possible. Over my 4 years at university, I managed to grow the flock to 150 head of ewes, going onto graduate during 2020. After that, I went on to work back on the farm managing the sheep and helping with any Job possible.
 When back at home I found a new passion for promoting the farming sector by showing what I do daily starting with Facebook and Instagram before moving onto creating a YouTube channel (Cowley Hill Farm with Will). I enjoyed it that much that I fancied doing a bit more marketing and applied for a part-time job at Flame Marketing. I thought this would be great for mixing both of my passions of farming and marketing in one, whilst still working at home. From then on, I haven't looked back and been at Flame Marketing for 9 months! I have tried to keep it as brief as possible but that is my farming journey to date.
The use of Social media and the impact farm marketing has had on the farm
Now I'm going to talk about how I have used social media on the farm and how it has done so much good for the farm business and myself. After setting up the flock of sheep I had grown to a number where I could start to sell my sheep to other farmers for breeding. Although I didn't really have people to sell to unless I went to market. This is where I jumped online and started my own Facebook and Instagram accounts for the sheep enterprise to start to advertise. 
At this point, I was an unknown breeder that not many people in the society had really heard of. I made a big push and tried to post every day with an informative post, mostly about the sheep or the farm and its ongoings. Whilst developing the social media accounts I became deeply passionate about educating the public as well. So, when posting I tried to make posts that appealed to both breeders and the public. Then over time, my accounts began to naturally grow and it did work! I was having people messaging me on the pages interested in buying sheep off of ourselves. My accounts aren't huge, but I just love updating everyone about the farm and its daily running's. The pages have also helped our equine fodder business having even more interest from the sites than the sheep. Which has given us a great boost.
Farm Marketing: YouTube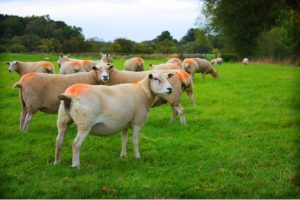 Having made a start on social media, I found myself watching a few farmers on YouTube one wet afternoon thinking to myself, could I do that? I then dug a little deeper to find hardly any YouTube videos about sheep. There were a few just nowhere near the amount as for the other sectors. 
Then in May 2020 I purchased a go pro and took the plunge. I'll be honest I wasn't the best on camera! But through time I got more confident and grew with it. At the moment everyone loves watching videos so if trying to advertise your business it's a great way to showcase yourself and it's so much quicker than typing out long paragraphs that people simply don't have time to read. 
The YouTube page has now grown to nearly 1,500 subscribers and I've loved every minute of it. It has gained so much interest and with it, alongside the Instagram and Facebook pages, I have been able to meet and talk to so many other breeders. I genuinely think with these pages I'd still be unheard of whereas now I feel that I could go to a sheep event and always have someone to have a chat to. If you haven't already got yourselves onto social media, you won't regret it!
Link To YouTube Page Cowley Hill Farm with Will
Where to next?
Having grown the sheep enterprise and gaining more knowledge by the day at Flame Marketing I just want to carry on growing the sheep enterprise whilst gaining more knowledge in the marketing sector. Not forgetting been more involved in the family farm at home. Whilst doing this I'll carry on doing the social media as I feel it is such a benefit! Even away from the farm, it has enabled me to meet new people and make contacts that I would never have made and learnt so much from them. My biggest thing from this is to just have a go! If you don't try you'll never know.
For more information about marketing for your farm business please check out our website: FLAME MARKETING