There are many things that are often overlooked when planning a new farm diversification project. In the case of agri-tourism, the most commonly overlooked issue is waste management, often this is left to the last minute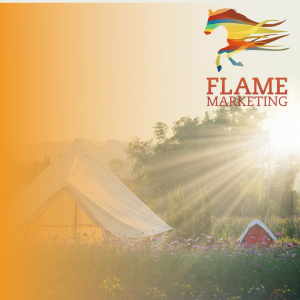 when planning a new glamping site or similar farm diversification project.
One of the most important things you'll have to think of as soon as you decide to diversify your land is the facilities offered to your guests. With the booming domestic tourism market, there is an increasing number of options for all areas of your business, and bathrooms are no different.
If you're thinking of opening up your land to tourism, but there are no existing buildings or plumbing facilities nearby, this shouldn't be a deterrent. A combination of the glamping industry boom and eco-consciousness means there are plenty of options that don't involve plumbing. Choosing a composting, or another off-the-grid system could even give you a marketing point as more and more people make eco-friendly options a priority when spending.
The most important thing to decide is how much time you can devote to your waste system. Having composting toilets may be eco-friendly, but they require a lot more maintenance and work than a conventional toilet. If you have shower facilities with water tanks as opposed to plumbing you will need to fill and empty them – and you may not always have guests that appreciate the principles of water conservation that make these systems work!
If you're only planning to have your land open to the public for short periods of time, for events such as festivals and open days, hiring fixtures might be the most economical option for you. But if you want your bathrooms to match the aesthetic of the rest of your business you can also buy your own portable set-up, as most of the waste companies that create more permanent features, also cater to portability.
If you are moving into a sector that requires a more permanent infrastructure there are plenty of businesses making it their mission to create attractive, easy to manage options.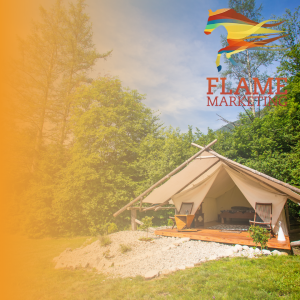 Whilst private bathrooms have always been quite common with glamping, they are now increasingly welcomed on more traditional camping sites. This saw a particular rise over 2020 whilst public bathrooms were often closed and people maintained as much distance from each other as possible. But the trend is expected to continue over 2021 partially because businesses want to try and ensure their services can remain open if there are any future outbreaks which means a return to closed bathrooms. Having 'En-Pitch' facilities could also give your site a more luxurious feel. There are several companies making standalone bathroom facilities that are well designed to fit into the countryside and provide the best experience for your guests.
For an off the grid setup, you will usually need a composting toilet and water tank. The benefit of this is that they can be set up in any kind of structure, tents, shepherds huts, anywhere you have space. The advent of both the glamping boom and also the tiny house movement means that companies are making moves to create water tanks that are more compact than ever so there really is very few limitations where you can set these up. There are now various shapes and sizes of tanks, such as a completely flat tank from Glampsan, which can slide under your structure, becoming unnoticeable or even completely hidden.
If you are looking to buy a ready-designed and built bathroom, most companies will provide options for either on or off-grid facilities. There are also several that offer either portable or fully plumbed versions. A sturdy portable bathroom, such as the timbered option from Shower Shack is a good option for repeating events such as annual open day or festival. Fully plumbed options will require a water supply and drainage facility, so you may be limited where on your land you can put them.
When picking a company to build a bathroom for you, there are plenty of options to match the glamping design you have chosen, with shepherds huts, wagons, and eco pods all available ready designed. Making it easier than ever to create a cohesive luxury camping site.
If you are planning your farm marketing strategy to promote your farm diversification then we would also recommend seeking support from marketing advisors, you can Check out our farm marketing strategy guide here, or you can book a consultation with us here. You may also benefit from attending the Farm Business Innovation show, you can get free tickets here.