Tourists headed to all corners of the UK as they looked to enjoy the countryside this year, with temporary campsites generating more than £25 million this year. Campsite owners have appealed to the Government to extend the right to open temporary campsites again in 2022.
It was not just destinations such as the Lake District and the West Country which benefitted, according to outdoor accommodation provider Pitchup.com, with areas such as Staffordshire, Lincolnshire and Herefordshire all attracting tourists.
£9.8m was generated through pitch fees alone, with an extra £2.9m being spent with campsite owners on firewood and farm-fresh produce. £12.9m was spent in rural businesses such as pubs, shops and restaurants.
Agri-tourism boom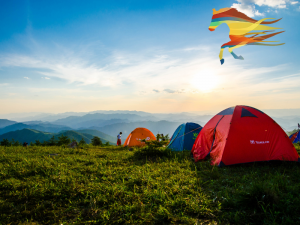 Dan Yates, founder of Pitchup.com, said the boom in pop-up campsites started in summer 2020 after the government temporarily extended the right to open them from 28 days to 56 days without applying for planning permission. But the period is due to revert to 28 days in 2022.
Mr Yates said the extension had a 'tremendous, positive impact' when it was most needed.
"It has enabled pubs, shops, restaurants, and rural tourist attractions to negotiate the pandemic when a lot of them may not have survived and helped a large number of farms that are facing large reductions in support payments," he said. "It has also seen the British countryside step up to the mark to cater for the huge demand for staycations as people could not holiday abroad."
The Welsh Government was consulting on a permanent extension but Westminster had no plans to do the same.
And Mr Yates said they believed the pandemic had prompted a permanent shift towards outdoor accommodation in the UK, even as foreign travel recovers. He added demand for agri-tourism for next year was showing no sign of abating.