Some dairy farmers are looking to move away from cow dairy production and instead toward dairy goats as a new form of dairy diversification. The goat milk sector is seeing real expansion, but it is not an easy option, bringing its own technical challenges.

Milking goats may seem tempting to farmers facing the squeeze on margins and one West Country family did just that when their dairy figures no longer stacked up. Will Frost, who farms with his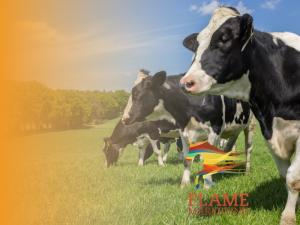 father, Tim, moved out of Holstein Friesians in the 1990s and switched to dairy goats.
"We were milking cows on three dairies at the time," he reflects. "But it was in the days of expensive milk quota and we needed to either buy or lease more, which just didn't stack up. Quota was either about 60p/litre to buy or 15p to lease, so we looked for other enterprises to keep the farm going."
Turning to dairy goats, as a dairy diversification, and with confidence in the outlook for the goats' milk market, the first kids were acquired to form the herd's foundations in 1996.
"We built numbers up to 900 by 2001, and ran at that level until 2005," says Mr Frost.
It was at this point that the family – which farms at Forde Grange in Thorncombe on the Dorset-Somerset border –had a major review of the business and set on a path of expansion. Initially operating as tenants on the Forde Abbey Estate, their relationship later switched to one of contract farmers, and both parties saw the benefits of doubling the size of the herd. A new parlour – an 80 point Fullwood rotary – was installed in 2007 and the herd gradually expanded to 2,500 milkers.
Today, the herd is one of the highest performing in the UK with an annual average of 1,070 litres a  head on three-times-a-day milking. Milk is processed in Shepton Mallet by Delamere Dairy, while the recently established kidmeat company, Cabrito, provides an outlet for the billy kids.
"The whole process has been a steep learning curve," says Mr Frost. "There was not really much data on goats at the outset and we have learnt by our mistakes."
Forde Grange dairy diversification facts
2,500 milking goats averaging 1,070 litres on three-times-a-day milking
Kidding interval of 18 months and most births are of twins
Main breed is British Saanen with some Toggenburg and Anglo Nubian
TMR comprises maize and grass silage with crimped wheat and blend
In-parlour feeding is an "enticer" at a flat rate of 100g at each milking
Milk is sold to Cheshire-based Delamere Dairy
Billy kids are sold to Cabrito to meet growing demand from quality restaurants
Quality feed
At the top of the list of important lessons has been the requirement for high-quality feed, which is said to be more critical for goats than for other ruminant species.
"Goats are unforgiving if fed poor-quality feed and have a particular tendency to succumb to listeriosis," explains Mr Frost. "We've been lucky to have avoided any serious bouts, but if you do get a case, the goat will rapidly lose mobility and will rarely recover."
Silage management has, therefore, been a key focus from the outset, and the process has been fine-tuned, in consultation with forage preservation specialists, Kelvin Cave, to minimise the risks.
"Silage making and clamp management have to be superb where listeriosis is a concern as the listeria bacteria – which are widespread in soil – will proliferate in poorly fermented forage," explains David Warner from Kelvin Cave.
"This means minimising soil contamination, achieving good clamp compaction, and rapidly creating the conditions which inhibit the proliferation of listeria," he says.
For this reason Mr Frost uses a human food-grade preservative containing the ingredients sodium benzoate, potassium sorbate and sodium nitrite when making both grass and maize silage, as it's the only product which has been independently proven to guarantee storage stability.
"I've tended to steer clear of bacterial inoculants as I'm never really sure whether they're actually doing anything, but using this preservative is very reassuring as you can actually see and smell the product working," says Mr Frost.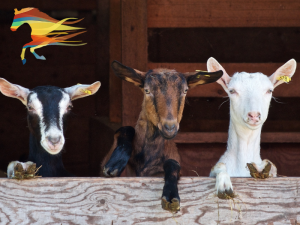 This reflects the "clean" fermentation the preservative promotes and the odour of the final product, which smells more like freshly cut grass than traditional silage.
"We can't afford to take any chances and good preservation becomes even more of a challenge as we seek to increase the dry matter of our forages, as we're always aiming to increase the herd's dry matter intake," he adds.
The herd's nutritionist, Pete Kelly from Kelly Farm Consulting, agrees that the hygienic quality of forage is important for goats, adding: "If you want milk out of goats you have to have high-quality forage."
In his milking herd total mixed ration he includes an 80:20 ratio of maize and grass silage, home-grown crimped wheat, urea and a blend which includes rape, soya, minerals and yeast. A protected fat is used in the first 100 days of lactation.
"We tend to use the same feed ingredients for goats as for cattle, but the goats can actually cope with higher starch," says Mr Kelly.
"They don't seem prone to acidosis and I would increase starch levels as high as 28%, compared with just 22-23% for cattle," he says.
Similarly, he says the goats suffer few metabolic disorders and twin lamb disease – equivalent to ketosis in dairy cows – is readily avoided by limiting energy intake in late lactation.
Drying off
"The challenge is actually drying the goats off," says Mr Kelly. "They have very persistent lactations and some of them are giving more than four litres/day – that's about their peak daily production – when they're 500 days in milk."
With an 18-month kidding interval – which in itself helps maintain the herd's level production and ensures individual goats don't have to repeatedly breed out of season – drying off often has to involve reducing milking frequency to once a day and cutting feed back to little more than straw and water.
All of the forage for the farm is made by Forde Abbey Estate as part of the contract farming arrangement, and Mr Frost says that crimp in particular fits the estate's facilities and its crop rotation.
"They grow a lot of wheat, but don't have any drying or storage facilities. Wheat for crimping is not only harvested earlier and at a higher moisture content than the main crop, but it also needs no more than a clamp for storage," he says.
With its strong focus on home-grown feeds, a high health status, efficiencies of production, and good prospects for market growth for both milk and meat, Mr Frost admits he is satisfied he made the switch from cows to goats and may even expand by another 300 head.
"It's definitely a numbers game and it's the scale that has made the unit profitable," he says. "But the national market is small and it wouldn't take many more producers to enter the market to switch the situation around."