A focus on developing an eco-friendly and self-sufficient enterprise is at the heart of Crumplebury Farm's outbuilding estate diversification into an environmentally-sustainable events venue and restaurant.
Herefordshire's Whitbourne Estate has been in the Evans family since 1860. In recent years the Evans family have worked hard to redevelop underutilised areas of the estate into a variety of complimentary estate diversification projects. Nestled on the estate is Crumplebury Farm, its old outbuildings now transformed into an extraordinary, modern, architecturally-designed event venue. Sitting honestly alongside the farm's old piggery unit, Crumplebury is home to the estate's award-winning restaurant, Green Cow Kitchens.
A key priority for the Evans family is a desire for the estate to reduce its impact on the planet and make positive environmental contributions.
Keeley Evans says: "We strive to tread as lightly as possible on the planet. We care deeply about the environment and are passionate about driving positive change and taking responsibility for our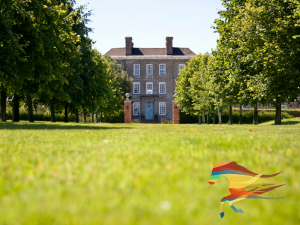 impact.
"We use a biomass heating system that is fuelled by waste wood and brash from our timber operations. We've also just drilled a borehole, which provides all of our water at Crumplebury and the properties that surround it. We aim to move our operations entirely off-grid, and we are looking into solar solutions that will provide all our electricity, including exploring options to add charging points for electric vehicles."
The beef, pork and lamb for Green Cow Kitchens, a fine dining restaurant, come from the home farm, and venison and game come from the woodlands. A kitchen garden supplies not just herbs and vegetables for the restaurant but also cut flowers to brighten the rooms. The team at Crumplebury celebrates seasonality and showcases the freshest produce grown in the estate woods, fields and kitchen gardens.
Keeley says they are keen to expand the kitchen garden further to enable them to grow even more fresh produce, including fruit, and a wider selection of picking flowers. "I love the idea of collecting eggs from our chickens and quail and having bee farms for honey," says Keeley. "What we can't currently source directly from the estate we source as locally as possible. Fortunately, we're surrounded by some excellent food businesses."
A significant amount of recycling is undertaken, and the team works hard to reduce and eventually eliminate any food waste going to landfill. For example, the restaurant tasting menus – using seasonal home farm produce – are planned in advance, with all guests prebooking their tables. Event menus are crafted ahead of the day with precise guest numbers, allowing a well-organised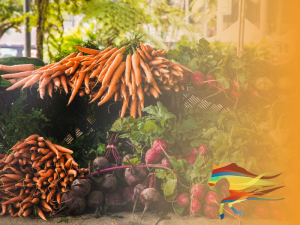 kitchen and minimal food waste.
It's not just food waste that receives attention. Frustrated by the plastic waste in so many hotels, Keeley uses Bramley Products throughout Crumplebury. Bramley, a British company, makes its products with British flowers, herbs and natural essences, refilled as needed into
recyclable bottles.
She also plans to plant trees on behalf of her guests to help offset the carbon impact of their visit, and hopes that others will share her passion for mitigating climate change.
"If you're thinking of embarking on a journey like this, be warned that it's not simply another project on the estate," says Keeley. "It is all-encompassing. Work and life become intertwined, and for it to be successful, you have to truly love and be passionate about what you're doing – and of course, it has to make sense financially.
"As well as continuing to reduce our environmental impact, we will consider widening the range of experiences available at Crumplebury. There are so many exciting opportunities ahead."