Boxed meat beefs up farm margins and keeps it local
Cutting out the middlemen, meat boxes are a great farm diversification option to add profit margins onto your products by selling directly. With most villages now looking for local eggs, veg and meat it's a great way to get your local community eating local produce.
Chris and Victoria Eveleigh have farmed at West Ilkerton on Exmoor for 32 years, running pedigree Devon cattle and Exmoor horn sheep.
Together with their daughter Sarah, they have started a box beef and lamb scheme with Combe Martin Abattoir.
Before the abattoir closed in 2016, the family had great success selling one lot of box beef to locals via social media.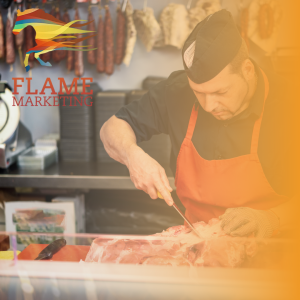 When it reopened, they decided the time was right to continue the scheme and encourage people to buy local produce.
Mr Eveleigh transports the cattle to the abattoir and later two vehicles are required to collect the meat and get it vacuum packed, weighed and labelled.
The Eveleighs put together the fresh meat boxes and deliver the orders locally or wait for customers to collect their boxes. This takes up most of a day.
Small abattoir bucks national closure trend with farm diversification
Your questions answered on box schemes
Time is a big investment
"Selling our own meat as a farm diversification doesn't require much investment in terms of money, but it does require additional time," explains Mrs Eveleigh. "At the moment we know most of the people who buy our meat, so chatting to customers definitely takes time as well, but it's all part of it and we love chatting!"
Farm facts – West Ilkerton Farm, Exmoor, Somerset
Marginal hill farm at 1,000ft
88ha
Pedigree Devon cattle and Exmoor horn sheep
Farm Diversification: Box beef and lamb scheme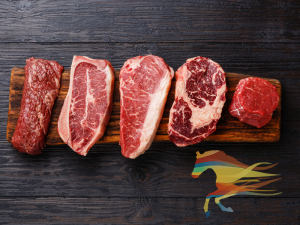 Any meat not sold fresh is stored frozen in boxes and customers can request a frozen box at any time. Advance ordering helps the Eveleighs work around their farming schedule. The website and social media for the business also take up time. The next step is to start selling boxes at events this autumn, which involves a lot of forward planning. Margins are better Selling through the box scheme delivers a margin £300-£400 higher for each bullock than traditional routes, depending on size. With lamb the margins are £30-£40 a head better, depending on the time of year, in comparison with a normal finished sale. Business considerations The Eveleighs had to change their system from selling bullocks as suckled calves at eight months old to keeping them until they are ready for slaughter at 24-28 months.This has resulted in temporary overstocking and cashflow "being more like a trickle". However, a spread-out calving pattern, due to problems with bulls a few years ago, has become an advantage, with the ability to supply fresh beef year round.
Tips from the Eveleighs farm diversification
Register yourself as a food producer with your local authority
Anyone trying to sell anything they produce must believe in it and be passionate about it
Be prepared that dealing with customers could take more time than you expect (which is often a positive sign)
With the demand for lamb appearing to be lower, the Eveleighs offer fresh lamb from October to February, keeping their March-April lambing period.
Last winter the family had 26 cows plus followers, 140 ewes and 40 hogs in the box scheme. All the sheep and some of the younger cattle were outwintered.
Next winter, the Eveleighs plan to cut back to about 16 suckler cows plus followers, in order to house all the cattle and grow their own forage.
"One challenge is producing the same quality of meat every time," Mrs Eveleigh says. "We want to keep our animals as naturally as possible and finish the cattle without much bought-in feed or concentrates, because we like them to be mainly grass-finished."
Selling plus points
One of the main marketing advantages is that the animals are born and reared on the farm, and taken by the family just a short distance to the abattoir. This means the producers know what has happened to them and how they've been treated every step of the way.
Mr Eveleigh says: "From an animal welfare point of view, that's a big thing. Before, if we wanted to process any animals they'd have to go to Taunton or Launceston, and that's just too far.
"It's very satisfying to be responsible for our animals throughout their lives, and to have direct contact with the consumers of the meat we produce."
Small abattoir bucks national closure trend
A newly reopened small abattoir in North Devon has bucked the national closure trend by working with local farmers on box beef and lamb schemes.
Combe Martin Abattoir closed at the end of 2016 under its previous owners, but neighbours and farmers Kingsley Nicholas and Chris Lerwill reopened it in June last year after seeing how much the local community depended on it.
"We saw the need to keep it going for farmers and producers who have adapted their businesses for it," explains Mr Nicholas. "There is growing demand from producers and consumers because they can see the benefits of keeping their produce local."
Local abattoir benefits
Reduces travelling time for stock, significantly reducing stress levels
Waiting times kept to a minimum as stock has an allocated arrival time
Less travelling time and lower fuel costs for producers
Lower food miles
The Combe Martin Abattoir reopened part-time at the beginning of June 2017 and runs two days a week. The business has not received any external financial assistance, such as grants, and is proving popular.
"People still like to have their own animals back to be sold or eaten," Mr Lerwill says. "We also have a large food service customer that supplies the catering trade and is a big supporter of farms and the abattoir."
The abattoir's average weekly throughput is 20 cattle, 40 pigs and 50 lambs. A self-employed butcher comes in to do the cutting and the team are also licensed for organic slaughter.
Customers range from smallholders wanting to be self-sufficient, to farmers having their animals slaughtered and butchered to sell on, to the owners themselves putting stock through to sell privately or through the trade.
Campaign for local abattoirs
Recently the Sustainable Food Trust's report A Good Life and a Good Death – Relocalising farm animal slaughter warned that the UK's network of small abattoirs face collapse.
Over the past decade, more than one-third of small abattoirs have closed. In England there are just 63 small abattoirs left, down from 96 in 2007. There are 249 left across the whole of the UK.
The sector is challenged by the high costs of waste disposal, regulation, planning hurdles and the competition with larger businesses, including slaughterhouses and meat processing companies that supply supermarkets.
Defra secretary Michael Gove has stated he recognises the importance of sustainably produced, high-quality British meat and said discussions are in progress about how animals could be killed closer to where they are raised.
The Campaign for Local Abattoirs responded to Defra's Health and Harmony consultation with the stark warning that the UK is in serious danger of losing its local, traceable meat supplies.
The group of organisations and individuals concerned about the closure of so many smaller abattoirs says more than a third of small abattoirs have closed in the past decade and a further 10% have already closed this year or are about to close.
Your questions answered on box schemes
Box schemes are a relatively low-cost way to begin selling meat direct to the public. AHDB Quality Schemes manager Karl Pendlebury answers some basic questions about this approach.
What are the hygiene regulations for boxed meat?
Contact your local Environmental Health team, part of your local council, to find out what is required for the type of meat business you propose. You can also complete food hygiene training courses online for personal certificates.
What other requirements are there – for example, training?
Quite a lot of farmers don't need any training. They rear the stock, send it off to a butcher to cut and pack and then it is delivered from the butcher. That is the most simplistic form.
If you are collecting the meat from the butcher to deliver to customers, you would need refrigeration, and it would need to be fairly robust refrigeration for marketing stock to the public.
How do I price and cost the business?
Every farm will be slightly different, but you must know your total production costs, including your own time. For example, full production costs include slaughter and MOT costs, but farmers often don't take this into consideration. That can be the difference between profit and loss.
What other considerations are there for a meat box farm diversification?
When people are buying box schemes, they are buying infrequently. Waste can be an issue – for example, matching the volume slaughtered with demand.
You also need to decide if you want to deliver the meat or have your customers collect. Some people like to show off the farm and some don't like people coming onto their farm – it's a personal choice.
What should I do about insurance?
The public and product liability elements of your farm policy may need expanding to cover the new business and you must inform your insurer of any new activity on the farm, especially where it is not straight farming.
For more information about Agri Marketing check out our website at Flame Marketing
Article taken from Farmers weekly