Holiday lets 'could earn farmers around £74k a year'
The whole aim of a farm diversification is to add income to farm businesses to become less reliant of the farm business. This farm diversification project just shows how successful you can be if it is done right. We found this example at Flame marketing and just thought it's a must read for those farms looking to diversify.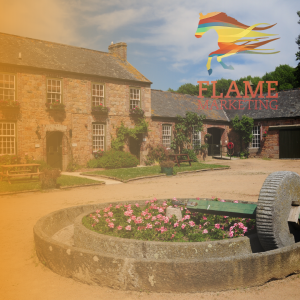 One of the most popular farm diversification methods for farmers in the UK is property letting – whether that be long-term letting to a tenant or running short-term holiday lets. Last year, NFU Mutual reported that 15% of farmers who had diversified operated a property letting, making it the second most popular form of diversification after renewable energy. Here, Shelley D'Arcy – Vice President Property Recruitment at cottages.com – answers Farm Diversity editor Victoria Galligan's questions on farm holiday lets and explains how to get the best return on investment…
Why are holiday lets an attractive proposition for farmers who are considering diversifying?
It's the potential return on investment that makes furnished holiday lets so attractive to farmers weighing up their Shelley D'Arcy of cottages.com on the benefits of having holiday lets  your farm diversification options.
The continuing strength of the staycation market means property owners could earn around £74,000 a year by letting to holidaymakers through cottages.com, with roughly one peak week in summer generating a rental income close to that achievable through a month of long-term letting.
Demand for domestic short breaks has rocketed in recent years with properties allowing short breaks all year round achieving an average 35% more bookings than those that don't offer short breaks at all.
Farm getaways are perfect for people looking to catch up with friends or family in luxury surroundings for birthdays and anniversaries, meaning those offering the most appealing accommodation and facilities are well-placed to cash in throughout the year, not just during traditional peak periods.
Which types of accommodation are currently proving most popular with farmers, and why?
Old barns and other permanent farm building such as dairies, stables, coach houses, granaries and pigsties are perfect for conversion into cottages, especially when farmers can potentially take advantage of permitted development rights and avoid the red tape associated with standard planning permission processes.
The flexibility offered by lodges, yurts and shepherd's huts is making them a popular choice with farmers right now too. Not only are they relatively easy to move around, they can be scaled up or down in line with available budget.
What do farmers need to do before their property can be let to holidaymakers?
The most important thing for any farmer considering diversifying into furnished holiday lets, or anything else, is to do their homework and get the right advice. Although we don't offer financial or legal advice ourselves, part of the benefit of working with a lettings agent the size and scale of cottages.com is that we can put you in touch with a huge range of advisors, from accountants and lawyers to health and safety specialists and interior designers, meaning you minimise the risk of wasting time and money and maximise your chances of making a tidy second income.
What's the best way to maximise ROI? Chick Hatch Barn – holiday lets on a farm which have been listed with cottages.com
We know from our own data what's popular with the holidaying public and are therefore perfectly placed to advise our owner partners when it comes to maximising income.
Those prepared to welcome pets, accommodate babies and toddlers and offer free Wi-Fi, log burners and hot tubs  all stand to drive more revenue than those who don't, with properties featuring private hot tubs attracting more than double the average income earned by those without a hot tub at all.
It's also important to remember that most customers are looking for at least what they have at home or better when they book a break, so en suite bathrooms should always be a consideration for those converting from scratch.
What kind of ROI should farmers expect?
ROI ultimately depends on a wide range of different things, making it almost impossible to give a general figure. Supply and demand varies hugely between postcodes, but geographical area is not the only determining factor when it comes to how well a property will sell. The quality of accommodation, facilities and furnishings offered can be a real deal breaker, as can the bedroom to bathroom ratio and things to do locally. We pride ourselves on ensuring that our owner partners always get the best possible return on their investment.
What's the next step for those wanting to work with cottages.com?
Farmers interested in making a better return on investment through holiday lets can visit  www.cottages.com/let-your-property or call 0345 268 1846. Owners working with cottages.com to market their property pay:
No set up fee
No photography fee
No charge for grading the property
No charge for a health and safety check
Chick Hatch Barn – holiday lets on a farm which have been listed with cottages.com
Holiday lets case study: Chick Hatch Barn
Carol and Colin Clay, owners of Chick Hatch Barn (pictured) near Saxmundham, Suffolk used to be pig farmers. However, after swine fever hit the UK, the couple decided to reconsider their options. Instead of continuing their pig farm, they chose to convert and merge an old out shed and barn, previously used for hatching chickens, into a profitable luxury holiday property.
Colin, a farmer of 45 years, continues to keep chickens, horses and 31-acres of cattle and sheep. And although he no longer farms pigs, for the last two years, their holiday-let has provided them with a good and reliable additional income solution. Last year, Chick Hatch Barns was fully booked for nine months of the year and the owners have a busy year of bookings for 2020 too.
Colin said: "We have been pleasantly surprised by the consistent occupancy levels over this period of time. We don't need to get involved with advertising – cottages.com do everything for us and that's great because we don't want to spend time and effort on our marketing as we're pretty busy with the rest of the farm work.
"We're both at retirement age now and if it wasn't for cottages.com, I don't think we would get half as many bookings as we do. We receive guests from all over the UK, Scotland and further afield, and we've been impressed by cottages.com reach. We always receive such a very friendly and efficient service from the outset. The advice they've given us has been incredibly helpful."
Here at Flame Marketing with offer help and guidance when setting up farm diversification. Including a FREE initial marketing consultation to set up a plan of attack for the direction you want to target for your business.