Farm Diversification | online retailing and local food is the future
Closing the gates at Streamvale Open Farm due to the Covid-19 pandemic was a worrying time for Chris Wilson, but he managed to turn it into an opportunity to start a new farm diversification which has just celebrated its first birthday. Clemmie Gleeson reports.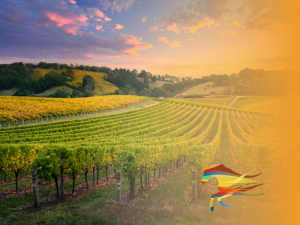 In March 2020, Chris Wilson posted an emotional video to his team at Streamvale Open Farm, near Belfast.
A bleary eyed and exhausted Chris told the team that the following day would be the last day open for 'possibly three months' and warned them of the serious implications for the business.
Like many employers, he was getting to grips with the possible consequences of closing the business and, before furlough was announced, dreading what that meant for his staff too.
Streamvale Open Farm was opened 30 years ago by Chris' wife Helen's family as a diversification for their dairy farm.
For the past five years, Chris and Helen have been managing the open farm, while Helen's uncle and cousin, Patrick and Timothy Morrow, run the dairy farm, which includes a herd of 250 New Zealand Friesian cows and an ice cream-making business.
Invested
Chris says: "In the last four years we have invested a lot and expanded the visitor attraction, taking visitor numbers from 50,000 to 150,000 annually. It was going really well until Covid-19."
The open farm is always closed for the first two months of the year and 2020 was no exception, with maintenance and building work happening during that time.
Chris says: "We had spent a lot of cash and obviously had nothing coming in, but we knew the doors would open and all would be well."
But his optimism was short-lived.
"We were open for a week and then realised we would have to close again because of the virus," he says. "It was an emotional and stressful time.
"We'd built up a very strong team and, around that time, one of our managers was picking up the keys to a house he had just bought. I was so worried we would have to make people redundant."
"We continued to develop the range; adding potatoes and eggs, all sourced from local farmers"
Chris Wilson
Thankfully the Chancellor's announcement of the furlough scheme was the first beacon of hope.
Chris says: "It took the pressure off because I knew at least those guys would be okay, but I was still thinking about what I was going to do. That was when I thought about selling milk, butter and cheese made by Dale Farm, the co-operative which buys our milk."
Within just a week, Chris had turned his inkling of an idea to a fully fledged delivery service with about 100 deliveries booked.
He says: "We started off with six products from Dale Farm and instead of selling tickets to the farm I turned my attention to selling milk, cheese and butter instead."
Streamvale already had a well-established following on social media, which was used to promote the new business, Moo to You.
Chris says: "The next move was considering ways we could increase the basket spend. So we continued to develop the range; adding potatoes and eggs, all sourced from local farmers."
Next was a bakery section, meat boxes from a local butcher, fruit and vegetables from a local wholesaler, plus expanding the delivery area.
Chris says: "I brought the staff off furlough so that eventually all six of our full-time staff on the open farm were driving and delivering instead."
Farm diversification Growth
From his initial 100 deliveries in week one, the business has grown to doing 700-1,000 deliveries every week.
By summer last year when restrictions were relaxed, the open farm was able to welcome visitors again, so the farm staff returned to their previous jobs and Chris took on new employees for the delivery roles.
He says: "At one point we had six airline pilots delivering for us, plus a solicitor who worked for a charity who was on furlough."
Now it has fruit and vegetables, a full bakery and butchery, plus fish as well. Moo to You began offering more than 200 items which were all sourced from local farmers and producers.
Chris says: "We bought our fish from somebody who usually sold to restaurants and brownies from an artisan producer who normally sold at markets which had stopped."
Expansion
Such fast expansion of the farm diversification came at a cost and Chris found himself working long hours with no breaks. Even when Helen gave birth to their first baby in August, he continued to work.
He says: "When Helen was in hospital, I was sitting beside her with my laptop, making orders with our suppliers."
Now with baby Jake to look after, Helen took a step back and Chris has taken on some more help from other senior staff, including an office manager.
One of the airline pilots proven himself as a 'bit of a foodie' and has since gone on to help Chris develop a range of ready meals and meal kits.
Chris says: "I took him on as a manager and he is now creating recipes for us. While I love my steaks, I can't cook."
Meals by Moo is a local version of the meal kits, which have become popular recently, he explains.
Kits include all the ingredients for a meal for four, plus a step-by-step guide on how to prepare and cook the dishes and have proven very popular.
Demand continues to stay high because supplies of food to Northern Ireland have been threatened not just by Covid-19 but Brexit too, with issues at ports making it more difficult for supermarkets to keep their shelves stocked.
Chris says: "We had our busiest week just before Easter. At the beginning of lockdown, it was easier to get sales. We are having to work harder now things are a bit more normal."
With seven vans all fully liveried with the Moo to You branding, Chris does not anticipate any further investment in infrastructure at present.
He says: "We will have to wait and see if sales are still as high in a few months, but I believe online retailing and local food is the future."
The company only orders what it needs for deliveries, so waste is absolutely minimal, he says.
"Also, the customer doesn't waste as much as they are only buying what they need. Food miles are lower, so we believe it is a better way to shop in terms of environmental impact."
Chris believes customers care about the environment, but their main concerns are that food is local and quality is high.
He also puts a huge amount of importance on customer service and asks his drivers to take time over deliveries and have a chat with those who want that.
He has launched a loyalty scheme and regularly gives customers a freebie to keep them interested and engaged.
Invested
Elsewhere on the farm, the family has also invested in a glamping site with six luxury pods each with hot tubs opening up this year.
"They have lovely views over Belfast," says Chris.
He hopes the open farm can open for its 2021 season at the end of April and, although there will be limits on numbers, Covid-19 restrictions have brought about some positive changes.
He says: "We have online bookings now so we can totally control the numbers and we have no big peaks.
"Visitors have to book for either the morning, afternoon or evening entry, so their time is limited on-farm, but there are no queues.
"We already had handwashing facilities and last year's feedback was that people felt safe and actually had a better experience because they weren't having to queue."
Online booking not only helps with managing numbers, it also helps Chris to manage his staffing, enables staff to take breaks between the visitor sessions and means there is no lengthy cashing up to do at the end of each day.
He says: "It used to take us two hours, but now all the money is taken online, so the only card machine here is in the gift shop.
"We have definitely made the best of a bad situation, but could do with getting the doors open again now."
Here at Flame Marketing with offer help and guidance when setting up farm diversification. Including a FREE initial marketing consultation to set up a plan of attack for the direction you want to target for your business.