Unusual Farm Diversification: Pheasant rearing
Pheasant rearing can be a very lucrative but high reward farm diversification if done right. The key is to get someone on hand with previous experience to ensure that you set up and run the enterprise correctly.
Gamebird rearing can provide a good secondary income for farmers looking to maximise the value of farmland.
Pheasant and partridge can be produced on a small acreage and, as it is seasonal, rearing can offer a good balance to other farming activities.
The pandemic has led to contraction in the market since it has restricted the activities of shoots but, as the industry has been on an upward trajectory for two decades, demand is likely to return in the long term.
We look at the risk and potential reward farmers can expect.
What land area do you need?
It is possible to rear pheasants and partridges on a small plot.
The aim is for 0.5ha for 9,000 pheasant chicks aged up to seven weeks and 0.5ha for 9,000 partridges up to 14 weeks old, says Amy Evans of Bettws Hall Game Farm, a Powys hatchery that works with contract-rearers.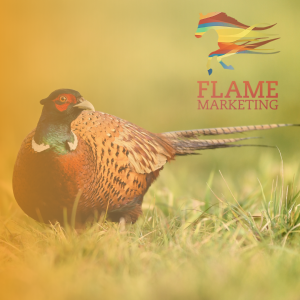 Land must be rested for three years to prevent disease cycles, so factor in three times that area when calculating the requirement.
Pheasants need sunlight and exercise so flight pens are needed to encourage flying abilities.
A site with short, natural grass and weedy vegetation is preferable.
The rearing area cannot be included in a farm's Basic Payment Scheme calculations.
Who are the buyers?
Pheasants reared in the UK are sold to shoots. Many are supplied by farmers affiliated to the Game Farmers' Association (GFA).
What standards must be met for a game bird farm diversification?
In England, rearers must adhere to Defra's Code of Practice for the Welfare of Gamebirds Reared for Sporting Purposes. Wales and Scotland each have their own codes of practice.
The codes cover the origin of stock, incubation, hatching, inspection, husbandry, housing, food, water and management devices for catching, transportation and preparation for release.
The relevant authority must be notified if the stocking rate increases or decreases by 20%.
The British Game Alliance, which also seeks markets for game, works alongside game farms and shoots to ensure standards are met.
Which feed types are suitable?
Buy specific game bird feed on quality, not price, as good birds can be pulled down with inferior feed.
It might be tempting to use chicken or turkey food to cut costs but a pheasant's nutritional requirements differ from those of poultry.
Wild pheasant diets are based on insects so the ration needs to compensate for this with a high protein content.
What are the risks from disease?
If possible, choose a location where there are no other game or poultry units nearby, as this will increase the potential disease threat.
A rearing site next to water can also be a risk factor in the spread of avian influenza from wild and migratory birds.
Farm Diversification
Before starting production, it is advisable to seek out a specialist poultry vet who is familiar in dealing with gamebirds.
Routine veterinary visits could avoid the risk of a comeback once birds have been distributed, as you will be able to use their reports to show that the birds you have sold are healthy.
What are the labour requirements?
Game rearing is labour intensive – for 100,000 birds, budget for three to four full-time staff, and more may be required in busy periods.
Birds need to be checked a minimum of three times a day, depending on their age and the system, Miss Evans says.
Factor in ongoing management of field logistics and general maintenance, too.
What are the pitfalls with contracts?
Game buyers generally place orders in February to supply birds for the upcoming season.
Birds are mostly sold to shoots in August when they are eight to 10 weeks old.
It is unwise to rear birds speculatively – get a firm order number in writing as there is no guarantee there will be a market at the end of the season for surplus birds.
This has been the situation for many rearers this year, who have seen orders cancelled or scaled back due to the impact of Covid-19.
The market for birds has contracted by 30% on 2019 sales, and GFA adviser Charles Nodder says many farmers have sustained big financial losses.
How long until I see a return?
Independent rearers will need to commit the capital investment before receiving a penny from clients so confirming orders is vital, says Mr Nodder.
It is usual to invoice your customer once the birds have been distributed.
If you are rearing gamebirds to sell to others, be aware that you will incur most of your costs in penning, feed, energy, staff and buying in eggs or chicks before payment from a customer.
But in contract rearing agreements, the hatchery will meet many of those costs.
Contract rearing agreements, which can be signed up to on an annual basis, allow farmers to reduce their financial outlay while still receiving a revenue.
"In 2020, on average our pheasant and rearing farms received 62p a poult and an overall rear of 96%," says Miss Evans.
But for some independent rearers, the 2020 pandemic has impacted significantly on their returns.
For rearers who agreed a 50% deposit with their buyers, this will have covered their costs if an order was cancelled, but it is not uncommon for no deposit to be paid.
"Game farmers have historically been pretty relaxed about getting agreements upfront; a non-refundable 50% deposit is quite rare," says Mr Nodder.
"Some will go through the entire rearing process without a contract or deposit."
Even birds that were supplied as agreed may have been sold for less than the anticipated price.
"Price responds to supply and demand. Birds already out on shoots will not have sold for the normal price," says Mr Nodder.
Case study: Gwyn and Ann Evans, Bettws Hall Game Farm, Powys
The Evans family diversified into hatching and rearing pheasants and partridge more than 30 years ago.
Amy, Gwyn, Ann and William EvansAmy, Gwyn, Ann and William Evans © Amy Evans
Gwyn and Ann Evans founded Bettws Hall Game Farm in Powys, and now run the business with their children, Amy and William.
For the first 10 years, they reared the birds on site with their own team, but they now outsource the rearing to local farmers.
Starting point for a game bird rearing farm diversification
The process starts with an initial meeting with a potential rearer to check out the site's suitability.
"Once that is established, we assign a site manager to the rearer, who will be their main point of contact throughout the season and allocate them a batch of chicks – between 20,000 and 40,000 a site," says Amy Evans.
The rearer provides the land and labour for the rearing period, while Bettws Farm pays for the equipment, feed and gas.
Chick delivery
"On a weekly basis throughout the season, our hatchery would deliver about 800,000 chicks to customers and rearers from our modern, state-of-the-art hatchery," says William Evans.
The hatchery is regularly inspected Defra and the business is accredited by the British Game Alliance, which also involves annual audits.
"We do not simply comply with the environmental standards and regulations, our aim is to exceed them," says Miss Evans.
The same is true of the rearers, she adds. "We have found that where there is good management, there is minimal disease – an eye for detail is a must."
Bonus scheme
The contract rearing scheme is bonus-related – higher rearing percentages mean more revenue for the rearer.
"The quality of our poults has increased significantly since bringing in the bonus scheme, as the attention to detail is key to producing a quality bird, and ultimately achieving a better rearing percentage," says Mr Evans.
Pandemic effect
The Evanses admit that Covid-19 has impacted on the industry in 2020, but say this is true of many industries.
"We are gearing up for a busy season next year and we are actually looking to recruit more rearers and provide them with the opportunity to diversify like our parents did 30 years ago," says Miss Evans.
For more information or help about farm diversification projects and Agri Marketing check out our website at Flame Marketing
Article taken from Farmers Weekly