The public's appetite for eggs remains strong, with consumers eating, on average, 202 eggs each year – roughly 50 more than they were in 2004, according to British Lion figures. Free-range is a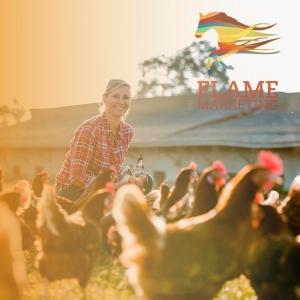 popular choice for egg buyers, with 70% of retail egg sales in 2021 from free-range flocks. How can your farm benefit from this through farm marketing?
The surge in demand for eggs has fuelled production and with it market competitiveness which means a brand needs to stand out. This is exactly what the Blue Box and Spire branding of egg producer and packer St Ewe Free Range Eggs has achieved selling eggs from the 16 producer farms across the south-west of England and into Wales.
Nikki Owen, who leads the company's marketing efforts, gives her top tips for producers wanting to market their own eggs.
1. Know your market – how to using targeting in your farm marketing?
The first thing is to know what is important to you as a business, says Ms Owen. "Our hens come first. But we know to achieve that, we need to look after everyone in the team too."
Clearly defined priorities will help producers – and the whole business – determine what matters and why, and help identify the customer and what might matter to them. It will also underpin decision-making on pricing, packaging and marketing, as well as building the business story.
"We really support smaller farms and communities. Anyone who comes under the St Ewe brand is part of the family – our team, our producers, and our suppliers," she says. "We're one of the top-paying packers in the country, and that's why our eggs are more expensive – we strongly believe in really looking after our team and hens."
And when speaking to retailers, knowing yourself and the market will make for a more effective pitch. "You've got to do your research and understand what the buyer wants so you can sell your story."
2. Have a strong USP – why are you special?
For some, a unique selling point (USP) is the eggshell colour or that they are produced from heritage or rare breeds. For others, it could be an environmental factor such as woodland ranges.
"You can turn an ordinary egg into something amazing if you have a strong USP," says Ms Owen. "For St Ewe eggs, the USP is nutrition – turning hen nutrition into human nutrition. People are exploring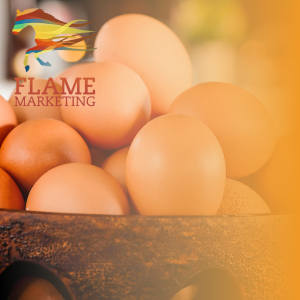 how they eat and what they eat, and that includes alternative ways to get protein into their diet. Eggs are high in protein so, for people reducing their meat consumption, they provide a quality protein source."
When marketing multiple products, having an overarching USP as well as unique qualities for each will help define the products in their own right.
"Our Super Eggs come from hens fed a specialist diet that makes them rich in omega-3 and selenium. They're marketed to people who are really active or have higher nutritional needs, like during pregnancy," she explains.
"Rich Yolk eggs are geared more towards foodies, with hens fed different pigments to get an extra-rich yolk."
3. Get packaging right – your most tangible farm marketing!
Egg cartons can blend into each other on a shelf, so packaging and labelling need to stand out while complying with legislation. Visually, packs need to be attractive to the consumer but also practical to fit their needs. Buying and designing packaging and labelling can be achieved in-house or through a third party with varying costs.
"Often packers will need to order packaging and labels in bulk, meaning any changes can take a while to bring into circulation," says Ms Owen.
People are looking for welfare, taste and quality assurance. "We make it clear on all of the packaging that our eggs are British Lion accredited.
"We also include any taste and business accolades we have been awarded," she explains. "Our Super Eggs really embody our USP, so we've made nutritional benefits a key feature of the labelling."
Packaging is one part of brand recognition, and ensuring products are recognisable will make them stand out to retailers and consumers.
"The blue box of our original eggs is really recognisable on the shelf and probably what people associate with us in terms of packaging," she says. "But we also tell the business story through marketing campaigns, including collaborations with individuals such as Michel Roux Jr and Jack Nowell, and relatable organisations."
4. Make use of farm marketing campaigns
Campaigns are periods of targeted farm marketing, but can also be initiatives that support social causes. A presence on social media will draw in new customers, not only through directly posting but also through customer interactions.
"The people who've seen us and gone away and tried us have then posted something about our eggs and tagged us in it – people are our biggest asset," says Ms Owen.
You don't need a huge marketing budget to have an impact using social media; the key is to be consistent, and people love posts about what happens behind the scenes. Word of mouth is a very strong marketing tool. Businesses shouldn't be afraid to align themselves with social causes if it is something they are passionate about.
"Our most impactful campaign was Shell Out 2 Help Out [SO2HO], which started when the country went into national lockdown and we lost over half our business," explains Ms Owen.
"You can't furlough a hen, and discovering 33,000 families in Cornwall alone were struggling to feed their families got us thinking about how we could put our eggs with no home to use. We never set out to make money from it, merely to avoid egg waste. We sold trays of 30 eggs at cost price and for every tray sold we donated a carton of six eggs to a foodbank – people went nuts for it and were coming along to our pop-ups in droves," she adds.
"It was such a success and it made a real impact within our communities. In return, we've seen people continue to buy our eggs because they can taste the difference and want to be a part of something meaningful.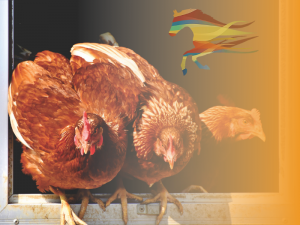 The SO2HO campaign is set to stay. "We will continue to do our bit as a British food producer to support those who need it. Therefore, for every dozen eggs we sell across our retail range, we will donate one egg to food charities."
5. Be open and honest
The worst period of avian influenza outbreaks on record left UK free-range egg producers with no other option but to keep hens indoors, due to the imposed housing order.
For those consumers who buy free-range eggs it was concerning because they want to make sure they are eating eggs from farms where hen welfare is the priority and the birds are at their happiest, Ms Owen explains. "So free-range becoming housed challenged that.
"To address concerns, we posted on our website and social media about what the situation was, why it was important hens were housed, and also how we were keeping them entertained.
It's important to educate the consumer to promote British farming, but to also retain customers when you have to do things that conflict with their perception of hen welfare."
And on the whole, using farm marketing to educate builds trust and brand awareness. "With Brexit and the rising cost of living, it's so important that the consumer knows where food comes from and what goes into producing it," she says.
"But they also need to know what nutritional benefit it has so they can spend more wisely and reduce food waste – we find recipes and cooking tips work really well."