Farmers Guide spoke to Massagical's creator Sally to hear more about her story and how she set up her small rural farm business.
What is your background, Sally? And how and why did you start your farm business, Massagical?
The farm I am from in Suffolk is surrounded by rapeseed fields, and a neighbouring farm is Hill Farm Oils, which was the first cold-pressed rapeseed oil company in the UK. For years this little thought was in the back of my mind that I should be doing something using this fine product.
Instead, I got the travelling bug after I studied hospitality when I left school and spent years travelling and working around the world, spending quite a few years between New Zealand and Australia. These countries are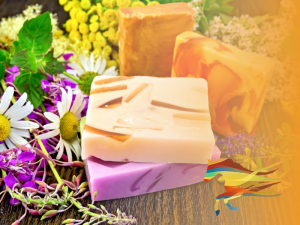 incredibly proud of their produce and while I was overseas I regularly bought and used handmade creams, balms and soaps.
In my years living in Australia, I followed my passion for natural health and studied naturopathy for three years.
Upon returning to the UK for six months in 2008, I made a body scrub using the Hill Farm rapeseed oil, which I had infused with wildcrafted and hand-picked elderflowers (I was after a unique product that was not easily replicated). Elderflowers do add an amazing magical and healing property to all my products, as well as a lovely aroma. Alongside elderflower, I do mix other British products including citrus essential oils, to enhance the beneficial results and refreshing aroma.
Over the past few years, my rural business grew steadily. I was selling my products, mainly at shows around the country initially and my website.
Do you see a growing market for homemade rural or farm products post-covid?
Yes, I still find it amazing how keen the public is to try, buy and support handmade British products, my customers love the fact that my products are genuinely handmade in a genuine Suffolk farmhouse kitchen.
Since lockdown I have had no shows to attend and was solely reliant on the internet, I am now limiting the number of shows I exhibit at and focussing on my digital presence. (A tip for those looking to start up in these times.)
What's your advice to diversifying farmers, the dos and don'ts of starting a small rural farm business?
I would recommend giving a potential idea a go, testing the market – my first show was a tiny game fair at Glemham Hall, I sold out over the weekend, had to return home, and started picking a lot more elderflowers!
My range was my salt scrub initially but has now expanded to a fabulous moisturising cream, stunning cold process soaps and lip balms to name a few. I have kept the base ingredients the same in all my products, so my local cold-pressed rapeseed oil infused with elderflowers.