Suffolk's Hog & Hen farm shop and café has provided a hub for the local community, whilst supporting the farming family's arable and pig enterprise. Farmers Guide visited the shop to chat to the team about their farming methods and experience starting a new farm diversification through the pandemic – alongside the myriad challenges facing British farmers.
Around eight years ago, when he was working as a bank manager in London, Nathan Wiffen decided to swap the daily commute and bustle of the city to farm 138 hectares in rural Suffolk with his wife Naomi, in partnership with Naomi's parents Mark and Rachael Howson. Mark is the former pastor at Mickfield Evangelical Church, so the land was previously contracted out before being brought back into the family.
When they took over the farm again, Nathan and Naomi had the opportunity to begin again as a start-up farm business. It is now an arable and pig enterprise, with free-range poultry forming part of the farm shop business. Birds are slaughtered on-site and dry processed to give improved texture and flavour.
The Hog & Hen team also started a new farm diversification project, by running a farm shop and café selling local, seasonal produce and supporting local artists and craftspeople, as well as offering a hub for the local community.
A simple low-cost farming system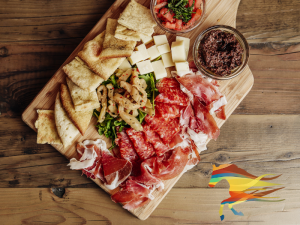 Mill Green Farm now does a simple rotation of wheat twice, barley and oilseed rape, and has 3,000 fattening pigs, 1,000 fattening chickens and 800-1,000 laying birds. The farm also produces 600 turkeys at Christmas – which has increased from 75 birds when they started in 2011.
Although input costs are currently extremely high, Nathan says direct drilling has meant their establishment costs are very low and the pig and poultry aspects of the business work well together – with low-cost fertiliser from the pigs and straw from the land.
Eggs, chickens and turkeys are sold in the farm shop and through various local independent retailers. There is around a 70/30% split between wholesale and farm shop sales. While the Hog & Hen shop allows them to sell at retail price, wholesale supports the business and gets the brand name into retailers with a much higher footfall, such as Suffolk Food Hall, M&M Butchers and Palfrey and Hall.
Outside of the current avian flu housing period, being able to see the laying birds in the fields has been a selling point for the free-range eggs. Luke Salisbury, who runs the poultry side of the business and co-manages the shop, says: "People love to see them. They feel involved and like to see exactly where their eggs are coming from."
Depending on demand, around 80-120 birds are processed each week. They are starved overnight, stunned and slaughtered on-site and dry plucked on a machine and finished by hand, explains Luke. Birds are then hung for at least three days which he says "is crucial in my book" for adding texture and flavour.
This is a stark contrast from hot processed birds going through a factory – which takes only around four hours. Not being allowed to hang removes a lot of the flavour and also reduces the shelf life, Luke says. "When you hang it, you lose moisture and moisture is weight, and weight is money – so it's not beneficial [for the big companies] to do that. But because we're doing it traditionally, protein starts to break down in the muscles when the meat is hung, which makes for a better eating experience."
While hot processed birds have a shelf life of 3-5 days, Hog & Hen says the shelf life of their birds is almost tripled at 5-10 days as they do not add water, which increases the risk of bacteria.
Farm Diversification offers long-term sustainability
As farmers face a range of challenges, from loss of subsidies and ag-chem products, to ramifications of Covid and Brexit, to extreme weather challenges, farm diversification is becoming increasingly important for farming businesses.
At the time of our visit to the Stonham Aspal farm, the birds were indoors due to the UK-wide avian influenza housing order, and the pig side of the business was also feeling the effects of the abattoir labour crisis which has left a backlog of pigs on farms across the country.
With these challenges in mind, the farm shop and café offer long-term sustainability for the business.
Anna Salisbury, who manages the shop with Luke, says they have had good support from the locals since opening the shop four years ago. Tucked away in a very rural part of Suffolk, they rely on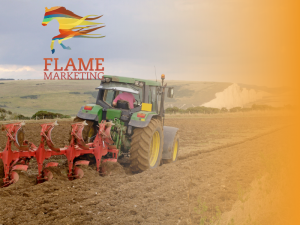 visitors from surrounding villages but see customers from further afield over the weekends. The shop and café – open Tuesday to Saturday, 8:30am-4pm – have become something of a hub where people can meet to chat, helping to unite a geographically dispersed community, Anna says. The next step for the farm is getting an alcohol licence to sell drinks through the café.
The shop began as an egg shed on the side of the road, and later on turkeys being sold from the barn at Christmas. Since making the decision to bite the bullet and open in March 2018, it hasn't always been easy. "It was quite a shock to start from nothing," Anna says. "The first year was really hard; I would be here every single day and it would be really quiet. I could go couple hours and no one would come in, it could be quite disheartening."
All this changed when the pandemic hit: "We went from being quite quiet to having a queue of people outside and all the counters and freezers being emptied out within a couple of days. So it really changed things for us. A lot of people in the community wanted deliveries so we started doing that. We were able to adapt really quickly, whereas it was harder for some of the bigger more established businesses."
Aside from what is produced on the farm and sold, the majority of products in the shop are local and the team aim to keep it seasonal where possible – strawberries and raspberries for instance are only sold in season. Items that are not generally grown in the UK may be stocked out of season. The team has long-standing relationships and a good rapport with suppliers, which Anna believes is a good principle. Being honest if you're not happy with something is also important, she adds.
There is also an allotment on the farm where butternut squashes, leeks, potatoes, pumpkins and other vegetables are grown. While this is not always a success, whenever this home-grown produce is available, it always sells very well. Plants and flowers grown on site are also popular.
The team had planned to open the café early in 2020, but when the first lockdown was enforced, this became impossible and the space was instead used for storage and packing deliveries. It was finally able to open in August 2020, shutting again for the second lockdown at the end of 2020 and reopening in spring 2021.
"We always knew a café would help us with footfall and people had asked us about it. […] It helps keep things ticking over in the quieter months when people aren't doing so much shopping; this brings people in and then they see other things – we have a lot of local artists and craftspeople selling things which works well. […] I've really enjoyed getting those things in – it's just about having lots of little bits of everything to bring people in and add interest."
Naomi Wiffen also runs her own floristry business on the farm, which focuses on weddings and special events. Rose & Berry Flowers has been trading for eight years and has a growing reputation in the local community.
Farm diversification advice: "Be willing to go outside your comfort zone"
When deciding whether to diversify, and what type of business to go into, Anna advises looking at what you have on your farm and where your talents and interests lie. Being willing to go outside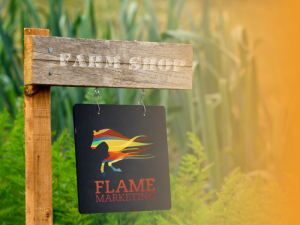 your comfort zone is also important. At Hog & Hen, the team have a variety of different gifts that work well together and all get involved in different parts of the business.
"You've got to be willing to do a bit of everything and actually it makes it interesting. It's never boring because there's always something different to do. Me and Amy [Rowe] will do a bit of turkey plucking etc as well."
The hardest part of diversifying is not knowing whether it will be a success, she adds. "You start something like this and you go through phases where you think, 'is this going to work?' It does take time, but we can look back now and see how it's developed and taken off."
Branded products, such as bags for life, aprons and hats, have proved popular at the shop, but marketing and social media can be a challenge – particularly when it's unfamiliar territory and the team are so busy with the running of the farm, shop and café.
This is an area they hope to grow this year, as well as placing more emphasis on family activities and attractions. The farm already runs an annual maize maze and has a trio of pygmy goats for children to feed (Tumnus, Beamish and Clifford), which visitors "absolutely love," Anna says. More petting animals and family activities are in the pipeline, as these are relatively low cost and low staffed.
With the rise of the staycation and growing numbers of visitors to the countryside since the pandemic, such endeavours represent an opportunity for farmers, and an exciting new chapter for this burgeoning Suffolk business.
For more information, visit www.hogandhenfarmshop.co.uk