Top tips to make your glamping site stand out
As glamping becomes a highly competitive market, farmers who are diversifying their land to include such ventures now need to find ways to stand out from the growing crowd.
Internationally, the glamping industry was worth $1.88 billion in 2020 and it is expected to rise to a whopping $2.35 billion by the end of 2021. As such, for those farmers looking to capitalise on the now booming staycation market, it's highly unlikely that you'll be the only one in your area. So how will you make prospective customers choose you over the competition? We've compiled our top tips to make your site stand out.
Make it personal
As with all diversification plans, it's important to work with what you've got and utilise your existing skill set. Incorporating your personal skills and interests could be a way to offer something unique, and your genuine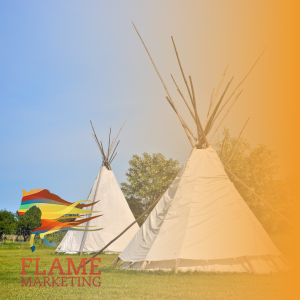 knowledge and passion will leave a positive impact on customers.
There are many examples of diversified farms taking the initiative to do something a bit different by capitalising on previous experiences and passions. Rosebud Alpaca farm, Devon, caused a bit of a stir when they announced their Alpaca Yoga sessions. Their wild camping and alpaca-based wellbeing activities were born from personal feelings of relaxation felt around animals, and their passion for nurturing mind, body and spirit prompted them to target customers who are looking for experience rather than destination holidays.
For those looking for more adrenaline-fuelled breaks, Portnellan Farm, Dunbartonshire, expanded their glamping operation with a host of water sports. The fourth-generation farmers utilised their location next to Loch Lomond, and previous experience working with speedboats, to create a unique tourism package of accommodation and boating tours.
Pick your market
The first step in developing a unique and thriving business is to decide who your customers will be. Whilst ultimately you might want to attract as many people as possible it's best to focus on one key group. Think rationally about who you have the resources to cater for and also the kinds of people you would like to deal with. Would you like to attract young families? Do you have the space for play equipment or a petting zoo? Perhaps you are in an area of outstanding beauty, which attracts older tourists. Make your accommodation simple and comfortable accordingly. Narrowing your target audience may feel counter-productive in terms of getting people through the door, but it will allow you to focus and ultimately attract more people in that niche.
If you want to cash in on the lucrative market of younger adults, attracting them may require a little more artistic flair. People, particularly those in the millennial demographic, are looking for complete experiences. Combining Instagram-ready visuals with local activity or an authentic countryside experience could help capitalise on this demographic.
Aesthetics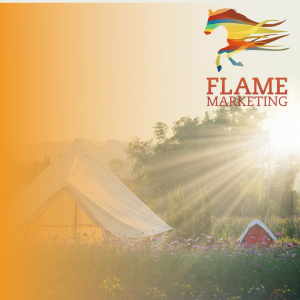 Romantic night glamping, camping, boho cozy siteLove it or loathe it, social media is going to be a large part of what attracts people to you, and for many potential customers, good visuals for their social posts will be an important part of choosing their holiday venue.
Having a unique aesthetic could prove to be hugely lucrative. This is especially important if your land is in an area outside of usual tourist destinations. If you're not surrounded by beautiful coasts or rolling hills which traditionally entice people holidaying domestically, having an attention-grabbing look could prove invaluable. In the long run, you could get lots of free publicity from people sharing their stay with you online.
One farm that successfully developed a unique and quirky aesthetic is Mount Druid, County Westmeath. Still a working sheep farm, they have built up a successful glamping business and unique location wedding site. Their quirky style has been curated through using almost entirely second hand items, creating a whimsical, magical feel.
Buying decorative items second hand can help ensure a unique feel to your site, and provides a more rustic finish, more in keeping with the countryside.
Dare to be different
Even if you don't have a big creative vision for your business, it's a good idea to try not to look exactly the same as others in your area. If every location near you is setting up with shepherds huts, it's probably best to pick something different. The booming industry means there are more and more options available so you should be able to find a company to help you create something different for your area.
There are entire trade shows devoted to showing off the different designs for guest accommodation. Diversifying into the tourism market is a huge commitment and will be a huge amount of work, so it is important to invest both money and time into deciding on the best options for yourself. Moving too quickly, and selecting the first or cheapest option could prove to be a false economy. Take the time to select the best option for you.
Stick to the plan
An important part of diversifying is picking a plan and sticking with it. If you have selected a specific demographic or style, it's best not to try and change it. When pursuing a new revenue stream, it can be tempting to copy other successful businesses or implement a fad – but a well thought out, smaller offering is often better than trying to cater to all, without any core themes or structure.
Seek advice to create a solid business plan with a projected time frame for your new operation. All forms of diversification will require a certain amount of patience and sadly, as we all know, it isn't going to be as simple as popping up some tents and watching the money roll in. It may take time for you to be able to recoup your investment and you may not be able to realise your full vision for the site straight away. Trying to change plans once you've started diversifying will only set you back – once you've planted the seed, you just need time to let it grow.
If you are thinking about diversifying your land, look out for our new FarmHub directory, launching June 7th. The new online portal will have a full section on diversification to help you make the important decisions.
For more information about marketing for your farm diversification business please check out our website: FLAME MARKETING
Article taken from Farm UK