5 blog ideas for your glamping business
The glamping industry has exploded in recent years and has only been compounded by Covid-19 as people have opted for staycations over travelling abroad. Glamping is now one of the most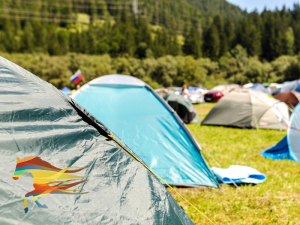 popular farm diversification projects, but it is already a crowded market and it is becoming increasingly difficult to stand out from the crowd.
To differentiate your glamping site from the competition, you need to have a clear ideal client (target market), and a strong brand. You can read more about finding your ideal client on this blog or check out our e-book. The key is to talk to the clients who are already looking for your product. These are people who are facing a problem for which you have the solution. For example, if you are a glamping site that focuses on being off-grid and low tech, you might target parents of teens who want to take their kids on a technology-free holiday to allow them to reconnect as a family and with nature. This allows you to position your glamping site as a solution to the emotionally charged problem that the parents are facing.
Why should you blog for your glamping business?
Once you have a clear ideal client, the next stage of standing out from the crowd is visibility. In an online setting, this means having a strong SEO (search engine optimisation) and visibility strategy across all your digital marketing channels. You can find out more about the importance of this on this blog.
One of the best things you can do to improve the visibility of your website yourself is to create targeted blog content which is SEO friendly. To make blogs SEO friendly, you need to cover topics that resonate with your ideal client and match how they search for your solution or business online. You can use guesswork to do this but we would always recommend having keyword analysis completed to have a clearer picture of the topics and phrases you should be focusing on. You will also need to make sure you understand how to upload blogs to your website and check the SEO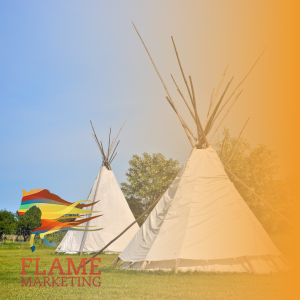 settings while doing this. For WordPress sites, Yoast is a very easy way to make sure you have checked off all the SEO tasks during the upload process.
The blog ideas we discuss in this blog are based on our experience of common topics for glamping sites. You may need to tweak the titles or topics to best suit your specific ideal client and glamping business.
10 things to do in [insert place] while glamping at [insert business name]
This blog is fairly self-explanatory and you likely already have a list of activities to do locally on your website, but there are lots of ways to extend this blog topic. You can make it more specific by targeting key aspects of your ideal client. For example, if you are an adult-only glamping site who are targeting parents trying to get away, you could say something like:
10 kid-free things to do in [place] while staying at our romantic glamping site
You could also adjust the topic to focus on kid-friendly activities or foodie recommendations or any other specific areas that will help to hone in on your ideal client and their needs. You may also want to swap the word "glamping" for something that more accurately describes your business or that resonates better with your ideal client. They may tend to search with the phrase "unusual stays" or "rural getaways" or so on.
5 reasons to bring your dog on your glamping trip
This blog title is a great example of an ideal client focus. Firstly, you are telling your audience that you accept dogs which is not something all glamping sites do but is in increasingly high demand. Secondly, the topic will allow you to set out your rules regarding dogs, and also provide advice on how to best bring a dog on holiday for maximum enjoyment and minimum stress for both the dog and the humans.
An alternative example of this type of topic could be: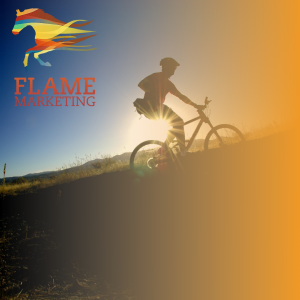 3 reasons to leave the kids at home on your next glamping holiday
This would work well if you offer adult-only glamping and are targeting parents, or wish to highlight you are adult only for childless visitors. You can cover the benefits of taking an adult-only holiday and how your glamping site is different from others. For example, you might have a bar onsite or a romantic wood-fired hot tub.
Why do we focus on numbers in blog titles?
You will notice all of the blog titles in this blog and many on our website have numbers in them. This is for a good reason. Statistically, people are far more likely to click on a blog which is in a list format or has a number in the title. In fact, depending on your industry, it is up to 7 times more likely that someone will click on the blog if it has a number in the title.
The choice of number is also important. Human psychology means we are more likely to engage/notice some numbers over others. Prime numbers such as 3, 5, and 7 are top of this list but 10 also ranks well as do odd multiples of 7, such as 21 and 35. For most blog content, I would try to stick to 3, 5, 7, or 10 as any more than that and it can become too long or the quality of the content will drop which has a negative impact on SEO ranking.
Using numbers can also be helpful if you are not a keen or confident blog writer as it can help to focus your thoughts and encourage you to complete sections of the blog like a checklist, making the process less painful.
Using frequently asked questions as blog content for your agritourism business
We are often asked to get new blog ideas and for a glamping business there are a few key areas to draw on: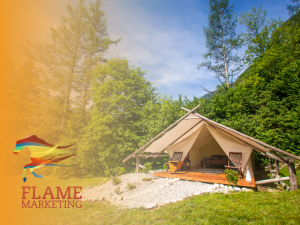 Your ideal client
Things to do/context of your site
Tips/advice on making your stay great
Frequently asked questions
Frequently asked questions (FAQs) are a great source of new blog ideas as they help to educate customers and may either reduce any concerns about booking or manage their expectations so they enjoy their stay as much as possible. FAQs are also often the topics people will use to search for answers on search engines, particularly if using voice search – where you talk to your device. This means they can be a great way to improve SEO ranking.
Two examples could be:
What are the rules on glamping communal spaces? Do you have toilets on-site?
Or
Are dogs allowed on site? And what rules are there at [insert name]?
This second one could be expanded to include recommendations for local dog walks and dog-friendly pubs, etc.
You may need to expand or slightly adapt your frequently asked question to be more specific or SEO friendly when turning it into a blog title. But this is often easier than you think and SEO doesn't have to be a scary mystical dark art, check out our blogs on SEO to find out more.
And for more places to find content ideas check out this blog.
Depending on what type of glamping or agritourism you have, we have a full range of marketing packages available. You can check out our entry-level services here, book a consultation here, or find out about our more in-depth marketing packages here.
To find out more about planning your farm marketing strategy, you can download our free guide here.