Farm Marketing: 5 farmers with successful social media profiles
More and more farmers are now taking to social media to provide insight into the world of british agriculture. Many of these farmers are doing it for the benefit of educating the public and raising awareness on issues facing british farming. But for those who are successful it can also have significant business benefits in terms of farm marketing and farm diverisification opportunities.
Check out our farm marketing strategy guide here.
Social media gives farmers the chance to speak directly to a wide audience, without their message being distorted. This can help improve farming's image and row back on misinformation about British agriculture. But it can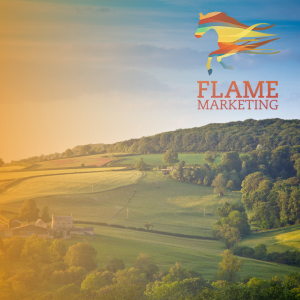 come at a cost. Farmers open themselves up to abuse and hostility from those who disagree with them. We spoke to five farmers with prominent social media profiles to ask why they use it, how it has helped them, and for their top tips on reaching new audiences, as well as how to deal with online abuse.
Olly Harrison – Youtube farm marketing!
For Merseyside farmer Olly Harrison social media has created an unexpected diversification. His daily YouTube videos are watched by thousands of people and this is earning him money from advertisement revenue. Last month, the arable farmer made £2,438, and in the past year his videos have been viewed more than 3.8m times. Money made from YouTube has helped Mr Harrison buy a new Bateman sprayer. He has more than 19,000 subscribers who tune in to watch the daily video, which usually lasts about 12 minutes.
Viewers can expect to see the machinery-mad farmer talk about his fleet of tractors and new combine, as well as giving an honest account of the ups and downs of farming 120ha of his own land near Liverpool, plus another 445ha he rents. He is active on Instagram, Twitter and Facebook and says he has seen an increase in followers on those platforms thanks to the success of his videos.
The idea for the YouTube channel came about in March 2020 when Mr Harrison needed to film some footage of himself in the tractor cab for a local news channel at a time when the country was in lockdown and strict social distancing measures were in place. He calls himself an "accidental YouTuber". "I just did it to see if I could do a video every day for a year, just like my dad keeps a diary, and then look back at what I had achieved. The channel just grew organically," he says.
The local impact of his videos has seen better public awareness and understanding of why farmers need to work late during harvest and be out on the roads more, which is why Mr Harrison thinks farmers should use social media. "It is quite an important tool now. If the public understand what you are doing and why, they are more tolerant of you."
Gareth Wyn Jones – The Advocate for British farming
Gareth Wyn Jones is a passionate advocate for UK farming and he has a big presence on social media. He uses Twitter, Instagram, Facebook and TikTok to talk all things agriculture from his farm in Llanfairfechan, north Wales. Videos are a key way Mr Wyn Jones communicates with his audience and he is not afraid to defend farming or push back against misinformation about the industry. This was part of the reason he started using Facebook in 2009, Twitter in 2011 and more recently, Instagram and TikTok.
"Sometimes I don't think agriculture is shown in a true light and that is where I am frustrated," he says. "Social media gives you a fantastic opportunity to put your points over, but you have got to be thick-skinned. If you are finding it stressful, don't put yourself out there too much, it can be a double-edged sword, you are never going to be everyone's friend."
Mr Wyn Jones has received death threats to him and his family, including someone who threatened to "take my whole bloodline out". Police investigated and said the account was being operated from abroad. But the 54-year-old says the positive side of farmers using social media is the chance to reach audiences directly, without the message being distorted.
"In March, the videos on my Facebook business page had 32m views, that gives you a sense of the power we've got. Pick on your strengths, whatever you've got on your farm, how you are farming, pros and cons, and I think honesty is always the best policy. If people ask questions don't be scared of answering."
Abi Reader – TB Challenges Exposed
"Never underestimate how many people are genuinely fascinated by what we do," says Abi Reader.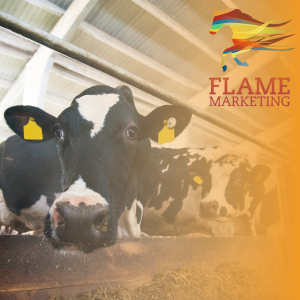 Earlier this summer, the Vale of Glamorgan dairy farmer shared a series of videos on social media detailing her devastating experience of bovine TB. Ms Reader was praised among the industry for the clarity, honesty and bravery with which she spoke about the disease that resulted in 21 of her cows being slaughtered. The videos – shared to a wide general public and farming audience on Facebook, Twitter and Instagram – gave a clear account of the battle farmers across the country are facing tackling the disease.
"The audience split was at least 50% farmer, 50% non-farmer. Between the three social media channels the videos were seen in excess of 70,000 times," Ms Reader says. "I had probably 450 to 500 messages. Only two of these were negative, they got blocked. I tried to speak in the videos like I would if I were attempting to explain our situation to a gathering at Open Farm Sunday."
Ms Reader says social media can be incredibly useful for farmers and can help change outdated perceptions. "We need to do away with Farmer Giles and Old MacDonald, that's not who we are. Unless we show people who we are, why should they think any different?"
Richard Heady – From farm marketing to video creator
Mixed farmer Richard Heady started using social media about four years ago as part of a farm marketing campaign to help market his lamb boxes. But now there is a bigger focus on telling his farming story to a local audience, often using short, informative videos posted on Facebook and Twitter.
Recent examples include clips showing how he makes hay and silage, and explanations of why his cows are bulling. He also has an Instagram presence. Mr Heady calls himself an "occasional YouTuber" because slow internet speeds make it difficult to upload the videos. The 405ha farm is south of Milton Keynes, on the urban fringe. He thinks it is useful for a broad spectrum of farmers to have a presence on social media, but encourages anyone starting out to focus on their local audience.
"People who have really big followings are going to keep telling our story, but I think the key would be for farmers to try and reach people in their area, local Facebook groups for example, to help share the load."
For farmers wanting to talk about their work on social media, Mr Heady suggests filming short clips throughout the day, which can then be edited together to make a video.
"Video works really well, but you've got to get yourself in there and present what you are doing. You can film all your clips throughout the day and then film the clip of you talking to the camera," Mr Heady says.
The farmer uses the editing app Videoleap, which until recently was free. He now pays about £30 for an annual subscription. Similar apps such as iMovie are free.
Ben Andrews – Agrespect Activist
Organic farmer Ben Andrews finishes cattle and grows vegetables, cereals and cut sunflowers on the family farm in Herefordshire. He decided to focus on Instagram as his main way to interact with what has grown to be a diverse audience.
"I've got a really broad mix of people following me, the majority are city folk, but also people from all over the world," he says. "My Instagram is totally organic, excuse the pun, I post when I feel like posting, if I've got something to say. I have no set schedule, as soon as I start having to think what I'm about to say, it feels all forced."
Mr Andrews says he tries to keep his posts personal and inject an element of humour.
"I think it is quite easy to alienate people by using technical, farming jargon and if people don't feel they are part of the conversation then it is a way to start losing people."
He is involved with Agrespect, the global LGBTQ+ farmers network encouraging and supporting diversity in the countryside. He also uses Instagram, on which he has nearly 50,000 followers, to lead by example.
"I am in a very privileged position but the reason I talk about it is because I know a lot of other people aren't. Just being visible is one of the most important things, going about your day-to-day life. Activism doesn't have to be constantly going around with a placard shouting from the rooftops the whole time, it is getting on with life and showing you can live an amazing, happy life just being yourself."
Article taken from Farmers Weekly