Farm Marketing: How to Use social media to market your Farm Business
For most farm businesses diversification of some form is now essential to provide a sustainable income from the farm. However, most farm diversification opportunities involve some form of farm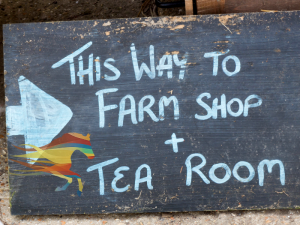 marketing. Most farmers and landowners have not had to market themselves directly for many years, in some cases even for generations, this can make the whole prospect of farm marketing a highly daunting undertaking.
We are seeing an increasing number of young farmers and farm successors taking to social media to either market themselves, their farms or to educate the public about agriculture. This is fantastic to see and can have real value in raising awareness with the public. But for many farmers and landowners using social media as part of their farm marketing still seems like an impossible task. So, in this blog, I want to tackle some of the key fears regarding social media and how you can best use social media as part of your farm marketing strategy.
Choosing the right social media platform for your farm marketing
Getting the best out of social media requires time and perseverance, it isn't a simple case of sticking up one post and magically the hordes of customers will come. Due to this, it can be a time-consuming part of your farm marketing activities – there are ways to save time but we will go into this further on. This means that most small businesses and for that matter farm businesses are likely to only be able to effectively use 1-2 social media platforms for their business. Any more than that and you will be spreading yourself too thin unless you want to employ someone full time to manage the social media.
The question then comes, which social media platforms should you use? The short answer is it depends:
It depends on how much time you have
It depends on who you want to target, your ideal client
It depends on how confident you are on different platforms
It depends on what type of content you feel you can create.
So, let's consider some of these questions, ideally as you consider each of the above factors you will come to a stage where there are one or two platforms that work well for most of the factors and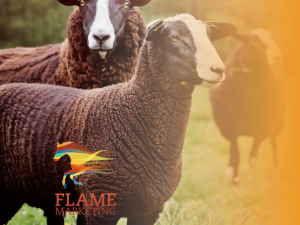 these are the ones you should start with. If you later find out another platform might be more suited, then this can be added or traded for an existing account. The key is to simply get started and learn as you go.
Firstly, let's think about your ideal client. Now I am going to assume if you are reading this blog, you already have an idea of who your ideal client is and why it is important to have an ideal client. If you haven't got those bits of information down, then check out some of our previous blogs on the topic such as this one or this one. Your ideal client is likely to use 1-3 social media platforms regularly, they may have accounts on other platforms but there will be 1-3 where they spend most of their time. Initially, we need to work out which ones these are, you can work this out by a combination of the following:
Researching and following them online
Finding the key influencers for your ideal client and where they post most successfully
Using data on user demographics (age, gender, education etc) – for this one, make sure you look for "active user" data not "all user" data
Speaking to experts in your field, or experts in marketing – like us – you can book a consult here
Completing SEO Research such as keyword analysis – check it out here.
Of the social media platforms, your ideal client uses regularly you are likely to find they use each platform differently. For example, if your ideal client uses Facebook and LinkedIn, they are likely to use LinkedIn in a professional capacity and Facebook in a private or personal capacity. This can mean they have different expectations of the marketing messages they receive and are receptive to on different platforms. You need to consider on which platform they will be most receptive to your product and farm marketing. In our example, if your product were related to their professional role LinkedIn would likely be more suitable than Facebook despite them using both platforms regularly.
Secondly, we need to think about the practicalities of each platform for you and your farm business. Some platforms, such as Twitter, are very fast-moving and rely on reactive, in-the-moment posts and engagement. As such this platform is not particularly useful if you do not enjoy using it throughout the day. Likewise, Instagram relies on photo and video content so if you are not confident taking lots of new photos regularly or recording videos on the farm then this platform is unlikely to be effective or practical for your farm marketing.
Try to consider what type of content you feel most comfortable producing, photos, videos, written content, mini graphics etc. Then consider how you want to use social media; do you want to be posting and engaging throughout the day or would you rather do a big bulk of content a few times per month and use a scheduling tool. By answering these questions honestly, you should be able to eliminate some of the social media platforms from your possible list based on practicality.
Based on the above you should now be able to select 1 or 2 social media platforms that meet all of your needs and suit your ideal client. If your ideal client's preferred social media platforms are at odds with the platforms that are practical for you then you may wish to consider either reviewing your ideal client, giving the social media tasks to someone else in the business who is more suited, or outsourcing the social media content to a farm marketing company such as us.
What to post on social media for your farm business?
Broadly speaking content for social media falls into a few categories the names of which often vary depending on where you read about them but we like to call them the following:
Education – this could include information about your processes, why you do things a specific way, or tips relating to your product
Relationship building – this covers posts that build a relationship with your customers and could include background on you and your farm, or information about your ethos and values.
Social proof – this refers to reviews, testimonials and case studies. It shows potential buyers that you already have happy customers hence the name social proof.
Sales/Call-to-Action (CTA) – these posts include those which relate directly to making a purchase and should always include a direct CTA command which results in a sale such as "buy here" or "order today" etc.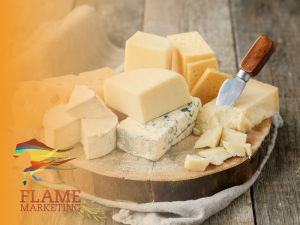 To successfully use social media as part of your farm marketing you should include a mixture of all of these content types in your marketing. It can be useful to set a goal of a certain number of each per week, the best mix does vary somewhat between different platforms and different farm businesses but, as a starting point, aim for 1 of each per week plus 1 extra sales post. This would give you 5 posts per week and you won't be repeating yourself as they come from different content types.
These content types refer to the content or focus of the social media post rather than the format, so for example you could have an "education" post which is in the form of a video, or a text post or an infographic style photo post. It's a really good idea to do multiple versions of your best posts in various formats this means you get more posts per piece of content or topic saving you time and energy. It also means you will reach a wider audience as some people will consume information better in an alternative format.
To get ideas for your content check out this previous blog about finding content inspiration for your farm marketing. Or you can check out our free farm marketing strategy download here.
Consistency is the key to farm marketing success
Social media marketing relies on consistency and perseverance, so it is not a quick fix strategy for farm marketing. However, it is far more effective when you are strategic and targeted with your content and marketing.
I would highly recommend trying to sit down and brainstorm some content ideas and create a social media plan and farm marketing strategy. Even if is a very simple and rough outline of your goals and strategy it will help you to focus on making progress rather than simply going through the motions.
The time demands of social media and even wider farm marketing activities can be very draining particularly if you lack the skills and passion for the tasks. This is where a marketing company can help to provide expert guidance or simply manage the farm marketing for you. As farm marketing specialists, we have access to technology, skills and expertise which means we can be far more efficient in supporting your farm business through its growth journey.
To find out more you can book a consult here, check out our done-for-you packages here, or if you prefer take a look at our coaching and education packages here.