Glamping: 12 steps to improve marketing of a staycation venture
Whether it is glamping, camping, holiday lets, B&Bs or pop-up campsites, a diversification into the leisure sector needs visitors. Here, Savills tourism and leisure director Simon Foster, FarmStay chairwoman Kay Barriball, and VisitBritain provide 12 tips and suggestions to help market a holiday venture.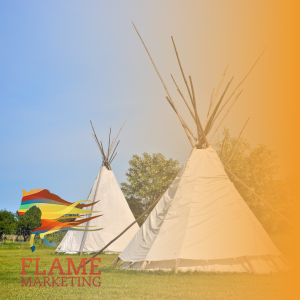 At Flame Marketing we frequently meet farmers and landowners who are considering a farm diversification which is focused on agri-tourism. But often these plans have not be properly researched and landowners are under the false impression they can simply provide a glamping site and wait for the bookings to role in. The truth is this market is becoming increasingly competitive and farmers need to consider how to best market their farm business to stand out from the crowd. Check out our blog on glamping here!
1. Use social media and tailor posts
Facebook, Instagram, WhatsApp, Twitter and YouTube, among a host of others, can play key roles in marketing and promoting the business.
For each platform make sure there is a link to the booking section of the business's website so that the interactions with potential customers generate income. It is important that all of the channels used are active, otherwise, it can make the business look stale.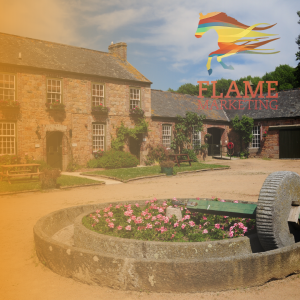 Posting tailored content for the different platforms is also key. For example, use Instagram for timely, relevant shots of the business and its local attractions with a brief description and link to a blog or Facebook post if necessary. Use Twitter and WhatsApp with short, sharp posts and links, and to interact with potential customers. Facebook ads can be exploited to target users by location, interests and even purchase history.
Check out our blog on social media content here!
2. Invest in a good website for your glamping business
Websites should look professional and contemporary and work smoothly on mobile phones, tablets and desktops.
Avoid slabs of text that can be confusing and show images that reflect the business and its local attractions. Above all, users will want to know the location, how to book, and availability. These must be clear and obvious across all devices.
As well as having a booking engine on the website, it is important to connect it to other sites where reservations are made, such as Farmstay.co.uk or Booking.com.
At Flame Maarketing we offer a marketing strategy package which included a full website review and refresh, as well as visalibity strategy, SEO review and ongoing marketing support, check out our Firestarter package!
3. Exploit search engine optimisation (SEO)
Google and other search engines have sophisticated algorithms that match results to specific terms in enquiries and rank them in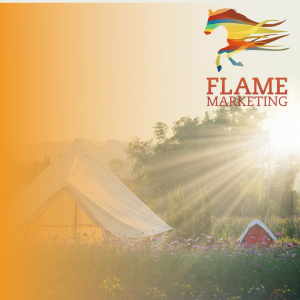 order of relevance.
A well-structured site with relevant, up-to-date, useful content and links to other sites will better meet SEO requirements and appear higher up search results.
Flame Marketing Top Tip: you need to keep on top of SEO by adding regular high quality content such as blogs to your website. 
4. Make use of Google tools for your glamping business.
Google My Business (GMB) is a free tool that creates a profile alongside search results. The tool helps with online visibility because registered businesses are displayed above other search results along with images, maps, opening times and contact details.
Install Google Analytics, which will show who has visited the business's website and how they found it. This will help tailor content to the potential customers. It will also indicate where custom is being directed from so any booking sites that are not generating sufficient income to cover their costs can be ditched.
5. Use good quality images and video
Across all platforms and the website, good photography pays dividends. Many mobile phones have good cameras with high enough resolutions to look good online. Certainly for Instagram and other social media platforms, a mobile phone image that can be shared quickly is invaluable.
However, buying a good camera or using a professional photographer for the most important images may still be worthwhile. The images need to be well composed and evoke a sense of the atmosphere and character of the accommodation or attraction.
Make use of the image description facility on websites with what are known as Alt Tags. Short, accurate descriptions with key words will help with SEO performance and gain exposure on search engine lists. Videos can also be shot easily on a smartphone. These should give potential customers a flavour of the accommodation without being too long – less than 90 seconds.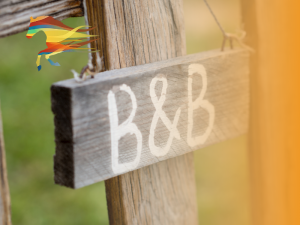 The videos can be posted on YouTube through the business' own channel. Instagram videos need to be short, timely and topical.
6. Harvest email data
Contact details for prospective customers should be harvested at every opportunity.
If a customer makes contact, whether online, walk-in or on the phone, ensure all staff are trained to politely ask for names, phone numbers and emails to enter into a database. The booking facility can also be set to require an email and marketing consent.
Providing the customer has given consent, using an email database is a quick way to send information via regular newsletters or one-offs about promotions, availability and local events. Always include a share button so that subscribers to email information can send it to friends and relatives.
7. Highlight attractions near to your glamping site
According to VisitBritain, one of the keys is to promote not just the site, but also the local attractions, activities, walks, scenery, history and nightlife in the area. When visitors want to stay in an area, they will look to see what is close-by for them to do during their stay.
While the holiday venture might be on the most beautiful site, if people are concerned about being bored during their stay they are likely to look at someone else's properties instead.
Make sure the events, activities and attractions cover a wide range of interests that will appeal to different age groups and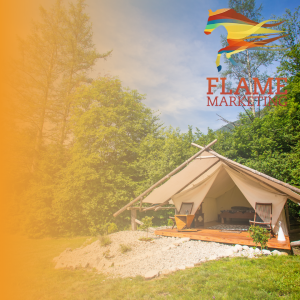 relationships.
8. Give directions to your glamping site
It is important to give customers accurate directions and precise details of the location. This sounds obvious, but place names in the UK can be similar to locations hundreds of miles apart. Postcodes are useful amid ever-increasing use of satellite navigation and Google or Apple maps.
However, in rural areas, a postcode can cover a large patch of land and leave visitors stranded and frustrated. The What3Words app is a more precise way of guiding people to a site and should be used in addition to a postcode.
9. Describe the property and services clearly
Don't be tempted to oversell the property's attributes. If guests' expectations are raised above what the property can deliver, they will be disappointed. Be clear about what is included. All terms and conditions should be shared with guests at the point of booking, including payment details or cancellation policies.
If anything changes, for example, a working farm might be noisier at certain times of the year or nearby attractions may be closed, let guests know ahead of their stay.
10. Work with local media
Getting coverage to stand out from the crowd can be a good way of generating positive publicity. Promote events at the farm and think outside the box to come up with relevant and newsworthy issues.
For example, if there are night-time woodland walks, charity ventures or Halloween or Christmas events, these could be used to generate coverage. Contact the local news websites and journals and set out exactly what the story is and its relevance and scope.
11. Join forces
Speak to the local tourism agency to help promote the accommodation, and join relevant groups, such as FarmStay UK, VisitBritain or Pitchup.com.
Also use quality assessment schemes and adjust accommodation to ensure it is in the best bracket possible.
12. Interact with reviewers
Good reviews are a key part of marketing. It is very unlikely that all will be five stars and some reviewers will post gripes and complaints. It is important to engage with these customers and to understand their dissatisfaction.
Leaving a toxic review unanswered will leave potential guests to think it has some grounds. It is also important that, no matter how upsetting their tone, you keep calm and use polite terms. Invite them to use the contact email for the business to carry on the discussion and get them out of the public domain.
If you receive a negative review, a good format for response is often: Acknowledge, defuse, detail, resolve
Article taken from Farming Weekly